Umbria » Valfabbrica » Farmhouse in Valfabbrica » Farmhouse Ca'mazzetto
Farmhouse Ca'mazzetto in Valfabbrica
Loc. Coccorano - Voc. Camazzetto II 21 Coccorano - 06029 Valfabbrica(PG)

Phone number: 075 9029409
Send an e-mail to Farmhouse Ca'mazzetto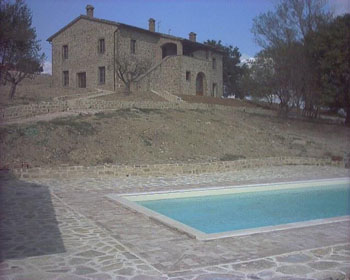 Description:
Ca'Mazzeto farm is located in the heart of the historical area of Coccorano of Valfabbrica. We are situated along the Franciscan Peace Trail and surrounded by Assisi (20 km), Perugia (25 km) and Gubbio (25km). We have about 130 hectares of land ( in the past there were 5 little farms). Cereal cultivation, olive-trees, meadows for the sheep and horses, woods, old stonehouses and the ruins of the "Castellina" fortress ( the restoration will start soon ). On our farm we raise Sardinian milking sheep, horses and hens. We have domestic pets and yours are also welcome upon request. From the hill where the farm is located ( 550m above sea level ) there are breathtaking views over the mountains, hills and valleys. The farm is organic and controlled by ICEA. We produce extra-virgin olive-oil, cheese from the sheep milk (pecorino, ricotta etc.) and handwoven textiles. In the town of Valfabbrica about 5 km from the farm, you can find shops, banks, postal service, a pharmacy and other shops. The nearest airport is Sant'Egidio (Perugia), and railway stations at Assisi, and Perugia. We are open all year round



Services:
- Apartments - 3 apartments for 2-4 people furnished in wooden "arte povera" style .includes; kitchen/living-room, double bedroom (or twinbeds) shower, bath and bidet. In the living room a divan-bed. There is possibility to add a bed for babies. Disable facilities are fitted in one of the apartments. All the apartments are in the mainbuilding with independent entrances. All apartments have complete self catering facilities, or as another option you can book in our restaurant featuring, Sardinian, Umbrian and International specialities.
-Services -
- Languages spoken: English, German, French, Swedish, Finnish - Swimming pool - Horse riding ( not included in the price ) - Shiatsu and other types of massages ( not included in the price) - Common hall with fireplace, books, games, and toys for the children ( IN CONSTRUCTION) - Satellite television in comon use Cultural meetings: agricultural activities, use of the herbs , cooking lessons ecc. ( on booking, the price depends on the number of the persons) - Possibility to book an Umbrian tourist guide service - washing machine and iron available./ 2 euro - Pets accepted when booked.- Apartment and restaurant suitable for the disabled. In the surrounding area it is possible to practise trekking, mountain bike riding and fishing in the river or lake. ( It is not yet possible to rent bikes on the farm).
Farm products, olive oil, cheese, and textiles are available for purchase.
Send an e-mail to Farmhouse Ca'mazzetto


Didn't find what you are looking for? Try with other accomodations in Valfabbrica: