Umbria » Tuoro sul Trasimeno » Holiday house in Tuoro sul Trasimeno » Holiday house L'oliveto Di Teodora
Holiday house L'oliveto Di Teodora in Tuoro sul Trasimeno
Loc. Montecchio 4 Borghetto - 06069 Tuoro sul Trasimeno (PG)

Phone number: 0758230201
Send an e-mail to Holiday house L'oliveto Di Teodora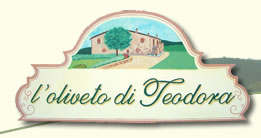 Description:
The Oliveto di Teodora is a dream that comes true. This is the dream of a young married couple that years ago decided to buy an old farmhouse, with the desire to let it flourish again, as a result of their work.This simple and so nice accommodation is the fruit of love and of our work.

So you are welcome at our home,

Mrs Norma, Elisa and Federico Lisi
The ?Oliveto di Teodora? gives you hospitality in four comfortable apartments, recently restored maintaining their original Umbrian characteristics dated back to the early 1900's, to let guest taste the atmosphere of ancient time. The colonial house is surrounded from green, the characteristic colour of our region. From the windows of the house you can admire the family olive-grove and the quiete water of Trasimeno Lake. On the back, as a protection, the hills that lead till the Castle of Montegualandro, old medieval fortress, still privileged eye on this beautiful land between Umbria and Toscana. The?Oliveto di Teodora? is the ideal accomodation for the ones who want to alternate moments of complete relax with tours to the most famous art cities. These are the main distances: Perugia or Arezzo (35 Km), Assisi or Siena (60 Km), Spoleto or Todi (80 Km), Cortona (10 Km), Pienza (30 Km).



Services:
The Casale has been restored in part, maintaining the original splendor. There is a wide and sweet-smelling garden, all around the house, that leads to the swimming-pool and the solarium, where our guests love relax themselves, under the sun or sitting in the shade of the walnut-tree. In the large square on the back of the house, there is a large barbecue, handicraft by the smith of the town. Usually during summer evening the grill is the best moment to stay together. Guest can choose their accommodation between our four different apartments. All of them are spacious and comfortable. Each one is peculiar from the other. Services: Every time new guests arrive, Mrs Norma prepares a special present. Usually there is a bottle of wine of the farm or a handicraft cake to have breakfast or something else. In each apartment there is a bottle of the extra-virgin olive oil produced by us, it is usually very appreciate. Large garden and solarium.
Sport e Beauty: Swimming-pool, mountain-bikes hire, trekking. Water sports.
Other services: Tv, baby sitter, private parking, barbecue, laundry with washing-machine.

How to reach us:
EXIT TUORO SUL TRASIMENO FROM RACCORDO AUTOSTRADALE PERUGIA-BETTOLLE Leave superstrada at Tuoro sul Trasimeno, turn always right following the direction to (the centre of) Tuoro. Run along this street for about 600 mt. At the end of this straight street you find a crossroads and you have to stop here. Turn left follows the direction of Arezzo. Drive along this panoramic road for almost 4 Km. Then you will come across a big bend where lays a bar called ?Ristoro Puntabella?, you have to go along the same street in the direction of Arezzo ? Cortona ?Terontola. After about 1,8 Km, on your left there are three big pine-trees, at the next bend you have to turn left, taking the first white road you can see, where there is the signal with the inscription ?L'Oliveto di Teodora?. Welcome!
Time to reach L'Oliveto di Teodora: 10 minutes
Distance: about 6,5 Km
Send an e-mail to Holiday house L'oliveto Di Teodora


Didn't find what you are looking for? Try with other accomodations in Tuoro sul Trasimeno: