Umbria » Todi » Bed and breakfast in Todi » Bed and breakfast Porta Fratta
Bed and breakfast Porta Fratta in Todi

Mobile: +39 348 6051399
Send an e-mail to Bed and breakfast Porta Fratta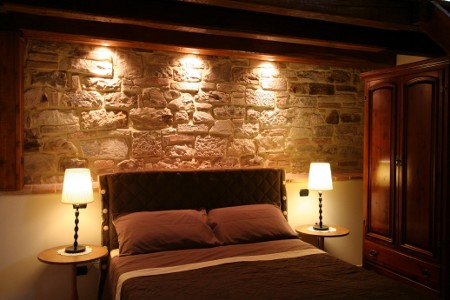 Description:
The B&B is a three-room apartment. It is part of a private house, but at the same time it is completely independent. The rooms are very typical thanks to the original architectural elements, like the local red bricks and the pianelle. Skilfully remodelled in 2009 in keeping with the local character with high quality and reused original materials, the rooms are true to the typical Umbrian atmosphere. Furnished in a comfortable and functional way, they offer the convenience and the charm of a stay in the core of the old town.

The building that houses the B&B, in fact, is inside a very typical corner of the historic centre, a few minutes walk from the beautiful Piazza del Popolo, the main monuments and city museums and at the same time near to the external roads. For these reasons Porta Fratta street is one of the best approaches to the old town because of the several parking areas in the neighbourhood and the good road links with public transport.



Our rates:
Prizes per person per night including breakfast: from 30 to 45 euro.
The fare includes: water, electricity, heating, bed and bathroom linen, initial and final cleaning. Discount: children up to 3 years free in bedroom with parents; 20% for children younger than 12.

Services:
Quite and romantic environment, in a city famous for its history and culture; large parking, bus and train station in the neighbourhood. Service of welcome, tourist guide, visit to farms.

How to reach us:
By car from the North of Italy
Motorway A1 Firenze-Roma, exit Valdichiana, keep going to Perugia-Terni (E45), exit Todi- San Damiano.
Motorway A1, exit Orvieto, keep going to Todi (SS 448)
Motorway A 14, exit Cesena, keep going to Perugia-Terni (E45), exit Todi- San Damiano
Motorway A 14, exit Fano and keep going to Gubbio-Todi (Flaminia Road)

By car from the South of Italy
Motorway A1 Roma-Firenze, exit Orte, keep going Terni-Perugia (E45), exit Todi-San Damiano. Motorway A 14, exit Pescara, keep going to L?Aquila (A25) then to Rieti-Terni (E80) and then to Perugia(E45),exit Todi-San Damiano.

By train from the North of Italy
Firenze-Terentola-Perugia (National Railway) Ancona-Falconara-Foligno- Perugia (National Railway)
Perugia - Todi (Central Railway of Umbria)

By train from the South of Italy
Roma ? Orte ? Terni (National Railway) L?Aquila ? Rieti ? Terni (National Railway) Terni ? Todi (Central Railway of Umbria)

By Bus
By buses of Sulga bus line (0755009641) the connection is available from: Napoli, Pompei, Roma
By buses of APM bus line (0755731707) the connection is available from Perugia.

By plane
S. Egidio Airport in Perugia (40 km)

Main distances
Roma 145 km
Terni 44 km
Perugia 42 km
Assisi 56 km
Orvieto 39 km
Spoleto 70 km
Send an e-mail to Bed and breakfast Porta Fratta


Didn't find what you are looking for? Try with other accomodations in Todi: