Umbria » Todi » Farmhouse in Todi » Farmhouse Tra Cielo E Terra
Farmhouse Tra Cielo E Terra in Todi
Voc. Orto 44 - Frontigniano - 06059 - Todi - Perugia

Phone number: 075 8852567

Mobile: 338 2237547
Send an e-mail to Farmhouse Tra Cielo E Terra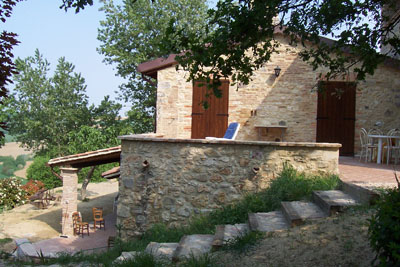 Description:
The name of our guest house, Tra Cielo e Terra, means literally between the sky and the earth is linked to the idea that man can live in harmony only if he preserves contact with Nature. Above his head, there is the Sky which gives him gifts. Beneath his feet, the Earth to which he is tied in his everyday existence. We chose that name because our main purpose is our guest's wellness and well-being.

The wellness came us from the fine air, the silence, the splendid landscape, an comfortable place, a natural kitchen, traditional or vegetarian and we to be glad to stay together with other.

The Tuderte territory offer to visitors a return of the ancient one, to the age of sandy roads, of the Umbrian history and times that recall the S. Francis of Assisi. Near Todi we find the cities of the Italian medieval history: Orvieto, Assisi, Foligno, Spoleto, Perugia, Bevagna, Montefalco, Acquasparta, Narni, Spello, Norcia.



Our rates:
Daily rate per person: From 30 a 45 euros

Weekly rate per person: From 200 a 300 eurso.

Lang spoken: English, French, Spanish

Services:
Our farm is set on 5 hectares of biological-cultivations, certified by AIAB. 2 Hectares are used for biological olive oil's production and 3 hectares for different seeds.

Services: Bed & Breakfast - Biological food Typical product - Production/Tasting wine-extra virgin olive oil - Disabled

Sport e Well being: - Kayak Trekking Bowls - Massage

Other service: - Internet - Parking - Phone - Tv
Natural watching.
Animal admitted.

Courses: kitchen, Languages, Yoga, kayak.


The guest house has 5 bedrooms, all have a private bathroom. We offer you the option of Bed and Breakfast or half Board meals (Breakfast and dinner). Disabled and handicapped people are welcomed. All our produce is biological. You will find at our table produce grown on our farm or in other local biological farms. During your stay you can request massages, personal consultations concerning body awareness, relaxation and depuration technique and learn more about biological agriculture.

Sport: Kayak, Trekking, Bowels.

Courses: kitchen, Languages, Yoga, kayak.
Send an e-mail to Farmhouse Tra Cielo E Terra


Didn't find what you are looking for? Try with other accomodations in Todi: