Umbria » Todi » Farmhouse in Todi » Farmhouse Casale Delle Lucrezie
Farmhouse Casale Delle Lucrezie in Todi
Voc. Palazzaccio 29-30 Duesanti - 06059 Todi (PG)

Phone number: 075 8987488
Send an e-mail to Farmhouse Casale Delle Lucrezie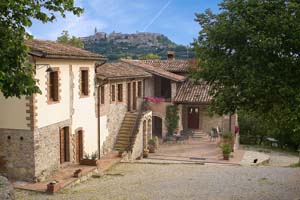 Description:
A beautiful holiday between history and nature... Todi, in Umbria, the green heart of Italy!
The structure rises up amidst the green vegetation of the hills which surround Todi; in the long ago 1200's, this was the residence of the Reverend nuns of the ancient Order of the Lucrezias. The fine old country building has been completely restructured and still preserves some of the details of that distant epoch, such as its stone walls and wooden-beamed ceilings; the period furnishings also contribute to giving the rooms a warm and relaxing atmosphere. The country house is set in the backdrop of a landscape composed of a mosaic of olive groves, ploughed fields, vineyards and woodlands with the ancient town of Todi in the distance.



Services:
Our guests have at their disposal comfortable rooms and pleasant independent apartments with private bathrooms, independently controlled heating, TV and a large swimming pool from which they may enjoy a magnificent panorama. The Italian style breakfast, with cakes, home-made jams and typical local products is served in spacious rooms and, upon request, lunch and evening dinner may also be organised.

How to reach us:
The holiday farms Casale delle Lucrezie establishment, which is part of a farm which breads animals, cultivates cereals, olives and vines, is located at 350 m above s.l. and is easily reached from the E45 superstrada dual carriageway (exit Todi-Orvieto), which is just 2 km away. Our establishment is also strategically placed geographically for reaching the most beautiful and culturally important cities and towns of Umbria such as Perugia, Assisi, Spoleto, Orvieto and Todi which may be reached in a short time by car.

FROM ROME: A1 exit Orte, E45 direction Perugia, exit Todi-Orvieto.
FROM FLORENCE: A1, exit Valdichiana, direction E45 Perugia-Rome, exit Todi-Orvieto.
Send an e-mail to Farmhouse Casale Delle Lucrezie


Didn't find what you are looking for? Try with other accomodations in Todi: