Umbria » Spello » Bed and breakfast in Spello » Bed and breakfast Villamena
Bed and breakfast Villamena in Spello
Via Centrale Umbra 75 Spello 06038 (Pg) Italia

Phone number: +39 0742 302161

Mobile: +39 347 4920579
Send an e-mail to Bed and breakfast Villamena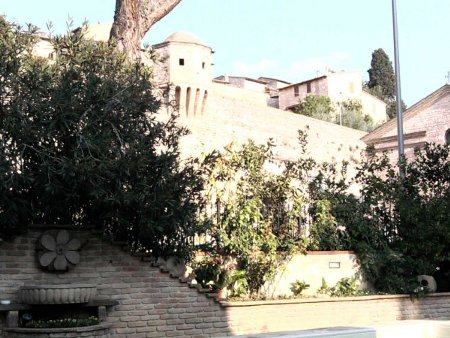 Description:
Villamena The B & B overlooking one of the most significant sights of the town of Spello. The monumental city gate dating from the Augustan period stands in front of our rooms beside the medieval church of St Ventura and still looking up, we can not ignore the view from the center of the country continues to culminate with the old gateway the city. Our B & B offers in addition to historical and natural environment for a friendly welcome ensure a more peaceful stay in our city.



Services:
The B & B Villamena serve your breakfast in an elegant and bright living room that During the day guests can also take advantage of the billiards hall. The pool service is available from the month of Juno to September also offering the convenience of deck chairs and sun loungers.

How to reach us:
How to Reach

By Car

From Florence
You take the highway A1 direction south (Rome) to Exit Valdichiana / Bettolle. From here take the road S75 Bis and go to Perugia to Assisi - Foligno, Spello exit.

From Rome
You take the highway A1 in direction north (Florence), exit Orte. From here you take the S204 up to E45 in the direction Perugia, then continue towards Assisi-Foligno, Spello exit.

by Train
The railway station is located 300 meters from our B & B, with trains from Rome, Florence and Ancona.
Send an e-mail to Bed and breakfast Villamena


Didn't find what you are looking for? Try with other accomodations in Spello: