Umbria » Scheggino » Relais in Scheggino » Relais Antico Casale Urbani
Relais Antico Casale Urbani in Scheggino
Scheggino

Phone number: 0743 - 618300
Send an e-mail to Relais Antico Casale Urbani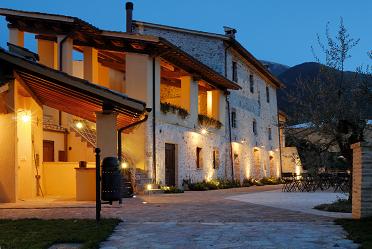 Description:
THE RESORT
NATURE & RELAX
The Old Urbani Country house stands in the heart of the Valnerina, an oasis of peace and tranquillity. The house bears the name of the prestigious family who owns it and dates back to the fifteenth century. It has been completely renovated for the will of the brothers Alberino and Alessandro Urbani who have not taken advantage of any professionals, but using only their good taste, they have created a dwelling of the highest quality and charm. The unspoiled scenery of the house is enhanced by two beautiful swimming pools, set in the rock and surrounded by the intense green of the valley.

THE ROOMS
COMFORT & DESIGN
The house has eight beautiful rooms placed in a context of architectural elements that belong to the rural tradition. Each room features natural stone and terra cotta floors and it is finely furnished with exquisite period furniture. In order to make your stay memorable a beautiful fireplace heats this magical atmosphere creating unforgettable moments. Each room features: satellite TV, mini bar, telephone, Internet. Qualified staff will be at your disposal to look after you and pamper you at all times. Why not making the most of our high standard room service by starting the day with a delicious breakfast and ending with a sumptuous dinner by candlelight.

THE TAVERN
SPECIALITIES & TRADITION
The masterpiece of the Old Urbani Country House is the tavern; a combination of class and sophistication which goes with the typical local cuisine. All the ingredients come mainly from the family's farming business. Large and cozy grottoes and a typical wood-fire oven let our guests enjoy the typical Umbrian atmosphere immersed in the silence of the countryside.



Our rates:
Prezzo della camera al giorno compresa la prima colazione
Coscerno
matrimoniale / disabili
€ 90,00
Moricone
matrimoniale
€ 90,00
Agata
junior suite
€ 110,00
Corviano
suite
€ 110,00
Campore
grand suite (4 pax)
€ 200,00
Ludovica
junior suite
€ 110,00
Leonardo
suite (3 pax)
€ 150,00
San Pietro
suite
€ 150,00
APPARTAMENTO Appartamento per 2 persone con la possibilità di aggiunta 3° letto
Il Casaletto
(minimo 3 notti)
€ 210,00
- Camere matrimoniali con possibilità di aggiungere posti letto con la maggiorazione di 30 € al giorno - I prezzi sono compresi di prima colazione

Services:
6 Suites - 2 double rooms - 1 Apartment

-- Tavern
-- Local cuisine, from Farm to Chef
-- Swimming Pool
-- Large relaxation area
--Customized well-being programs

ACTIVITIES
Our activities offer unforgettable experiences combining, well-being and fitness with fun and adventure. Every activity is tailored to meet all kind of physical ability and commitment.

-- Truffle and Mushroom trails
-- Photographic excursions
-- Mountain Bike trails
-- Trekking
-- Horseback riding
-- Bird watching
-- Wine trails
-- Religious and cultural trails
-- Rafting
-- Canoeing
-- Sport Fishing
-- Hunting

WINE AND FOOD
The Umbrian region is a hidden treasure that has to be discovered. It is a land of flavours and traditions and its people show devotion to their history through local art and popular culture. Those flavours and smells will humbly guide you through your gastronomic discoveries. Local specialities like truffles, olive oil, wine and cold meats will add pleasure to your senses. Following the wine and the oil trails will offer not only an opportunity to taste these jewels of the land but also a chance to enjoy hidden landscapes. Other local produce includes cereals, pulses and greengroceries. These are important ingredients of the well sought after Umbrian cuisine.

THE VALNERINA
This long and narrow valley enjoys the flow of a beautiful stream met by dozens of other tranquil joining valleys with their smaller streams sometimes falling from the slopes of the green mountains above. A remainder of the power of nature, mystical and earthly at the same time, which runs through the valley and breaks into a myriad of white rock fragments (scheggie) giving name to Scheggino.
Send an e-mail to Relais Antico Casale Urbani


Didn't find what you are looking for? Try with other accomodations in Scheggino: