Umbria » San Venanzo » Farmhouse in San Venanzo » Farmhouse Tenuta Capitolini
Farmhouse Tenuta Capitolini in San Venanzo
Voc. Fossatello,44 loc. Collelungo cap 05010 San Venanzo - Terni

Mobile: +39 3488828346
Send an e-mail to Farmhouse Tenuta Capitolini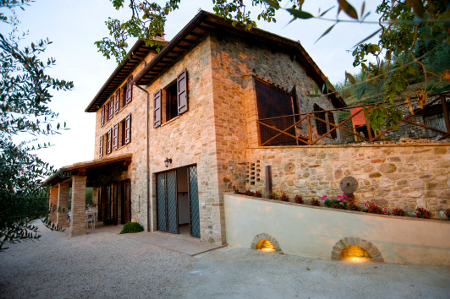 Description:
Come and discover a magical and secret retreat in the green hills of Umbria.

Please come in a charming stone and brick farmhouse nestled in nature, surrounded by olive trees and a privileged and picturesque landscape. That's the dream of those who live in cities, where contact with nature, clears the mind and unleashes a deep inner peace.

The estate lies at the foot of the medieval village of Collelungo (XII century) and between San Venanzo Marsciano, in a strategic position with respect to the many historic cities of Umbria: Todi, Perugia, Orvieto, Assisi, Spoleto with views overlooking the middle valley of the Tiber.

The farmhouse was built in 1875 by Damiani Nicodemus, a lover of the land in the area who, through his love to all the descendants of the family, passing by her grandmother Arnaldo up to the current owner, Monica Capitol, which, together with her husband Mark, loads happy memories and love of the splendor of these places, have completely renovated, with great wisdom, this hidden gem.

Monica gave special attention to detail, style, warm and cozy atmosphere of the family home, favoring the contact with nature, pristine amphitheater, who inspires feelings of well being for body and mind.

Do not miss a place where you can still dream. With much love and so much passion the building has returned to shine, with the aim to share this with everyone in their hearts the joy of living. We will be happy to show you our chest to spend an unforgettable holiday relaxing and serene, relaxing.

You will be captivated by the charm of the 3 apartments, characterized by a magical atmosphere of cordiality and hospitality. All independent, spacious, comfortable, equipped with the essential comfort, with heating. Carefully furnished, embellished with delicate colors. In each apartment you will have maximum autonomy in cooking and the proximity to shops and local restaurants will allow you to taste the typical products of the culinary tradition of Umbria. Ideal place for carefree strolls along the paths near the grove, where to admire the hidden beauties of nature and breathe in its fragrance.



Our rates:
Possibility to rent the whole house per week:
+ Low season: 1.800,00 Euro
+ Mid season: 2.000,00 Euro
+ High season: 2.200,00 Euro

For weekly stays, arrivals and departures are scheduled for Saturday: Arrival 16.00 Starting at 10.00

At the request are expected arrivals and departures custom
Reservations can be made for longer periods of one or more weeks.
For any information and / or clarification, please contact us, we are at your disposal to answer your questions and requests to meet your needs.
Services included
- Welcome basket
- Water
- Towels, bedroom and kitchen linen changed weekly
- Initial and final
Services not included
- Electricity consumption
- Gas consumption
- Extra bed:
€ 20.00 per week, low and mid season
€ 25.00 per week high season,
€ 10,00 per day, low and mid season
€ 15,00 per day in mid end high season.
- Current (consumption)
- Gas (on consumption)
- Additional linen: Towels € 5.00 sheets, bed € 20.00, € 15.00 single.
- Week cleaning € 15,00 / h

The booking will become effective upon the payment of the deposit, 40% of the amount through bank transfer.

On arrival, when guests occupy their flats:
- the balance of the rental fee must be paid.
- a deposit of €300 in case of damage per flat must be left which will be returned on departure.
Rental fees 2010

low season.
middle season.
high season.
11/01-19/03 02/10-05/12
11/04-25/06 01/09-01/10
20/03-10/04 26/06-31/08 06/12-10/01
Flat Terra sleeps 3+1
week.
550
625
700
day.
110
120
130
Flat Acqua sleeps 4
week.
650
725
800
day.
130
140
150
Flat Fuoco sleeps 5
week.
750
825
900
day.
150
160
170

Services:
We offer our guests the opportunity to relax in an environment of peace, quiet and silence, clean air, colors and aromas typical of this wonderful landscape, in which space is filled by a sparkling positive energy. This is the secret of nature, all its marvelous mysteries are at hand, revealed by a simple high level. They welcome you by offering the highest availability and cordiality in a family environment in which friendship comes first.
Here is a list of our services you can enjoy during your stay:

- Picnic area
- Walking
- Barbecue
- Garden with table and chairs
- Playground
- Parking
- Television LCD
- Safe in apartment
- Independent heating
- Fully equipped kitchen with refrigerator and oven and everything you need to stay
- Laundry (washing machine, iron and ironing board) common
- Sale typical products: organic extra virgin olive oil
- Apartment wheelchair accessible

To be completed in July 2010 a beautiful swimming pool set in a typical scenario, the most beautiful terrace in Umbria and you will wait a bowling alley that will delight everyone, young and old, to spend carefree days full of good humor.

In our immediate vicinity, in Marsciano (2 Km), you get all the services:


- Pharmacy
- Banco Posta
- Shopping center
- Bar
- Tabac
- Hairdresser / barber
- Health club (massage and sauna)
- Pizzeria
- Store fresh pasta
- Dentist
- Mechanical
- Cinema
- Railway Station
- Bus stop
- Hospital

We do not do catering, but we are happy to show you the best restaurant in the vicinity where you can taste the typical Umbrian products and recommend the best craft shops where you can sample or buy the excellent products of our region.


How to reach us:
The estate is located in Capitol Collelungo 450 meters above sea level, between the town of San Venanzo Marsciano town of Perugia and Terni, in Umbria, a central location, this allows you to quickly reach the main tourist cities.
By Car
Coming from the south:

- G.R.A. Grande Raccordo Anulare - Direction Firenze - Exit 10:Roma Nord
- A 1 Autostrada del Sole - Direction Firenze - Exit: Orte
- SS 204 Direction Terni - Exit: Perugia / Cesena
- E 45 Direzione Perugia - Exit: Marsciano / Collepepe - Direction Marsciano

Follow the directions (arrows for Tenuta Capitolini) :
Turn left at first roundabout
Turn left at second roundabout
Turn right after 500 metres
Straight on for 4-5 kilometres until the Tenuta Capitolini is indicated with a large sign on the first.

From the North( Firenze ) :
- A 1 Autostrada del Sole - Direction Roma - Exit Val di Chiana
- SS 75 bis Direction Perugia - Exit: Terni / Roma
- E 45 Direection Terni / Roma - Exit: Marsciano / Collepepe - Direction Marsciano


Follow the directions (arrows for Tenuta Capitolini) :
Turn left at first roundabout
Turn left at second roundabout
Turn right after 500 metres
Straight on for 4-5 kilometres until the Tenuta Capitolini is indicated with a large sign on the first.
By train
- Linea Roma - Ancona ( stops Orte, Terni, Spoleto e Foligno)
- Linea Roma - Firenze (stops Orte Orvieto e Città della Pieve)
- Linea Sulmona - Aquila - Rieti -Terni
- Linea Terni - Perugina - Umbertide - San Sepolcro


By plane

- Aereoporto Internazionale dell?Umbria : Perugia
- Aeroporto Leonardo da Vinci : Roma Fiumicino

Send an e-mail to Farmhouse Tenuta Capitolini


Didn't find what you are looking for? Try with other accomodations in San Venanzo: