Umbria » Piegaro » Farmhouse in Piegaro » Farmhouse La Sirosa
Farmhouse La Sirosa in Piegaro
Voc. Piazzola 48 Macereto 06066 Piegaro (PG)

Phone number: +39 075.7930600

Mobile: +39 340.2777089
Send an e-mail to Farmhouse La Sirosa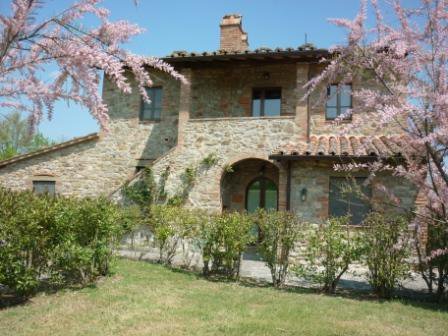 Description:
The farm holiday resort, set deep in the countryside of the green Umbria, is composed of three farmhouses: Po' del Vento, Piazzola alla Quercia and Piazzolina, and is ideal for relaxation and in total harmony with nature. One can easily reach the quaint locations of the region of Umbria, rich with history and tradition.

The farm holiday resort boasts three structures:

PO' DEL VENTO offers 6 apartments of which one has services for the disabled. Each apartment is equipped with an independent entrance, autonomous heating and a kitchenette. In the more spacious apartments there is a spacious living-room with a fireplace, which with its tepid warmth will be a delightful accompaniment to your stay during the colder days.

PIAZZOLA ALLA QUERCIA has 5 rooms, unpretentious but tastefully furnished, each with a private bathroom and minibar. The spacious gazebo outside the the building is perfect for hosting parties and ceremonies.

PIAZZOLINA is a building with one apartment composed of two rooms, one study, a kitchenette and a spacious living-room equipped with a fireplace and delightful loft.

Each farmhouse is equipped with a parking to accomodate guests' cars.



Our rates:
Price per room per day

| | | | |
| --- | --- | --- | --- |
| | Low Season | Mid Season | High Season |
| DOBLE ROOM | € 30,00 | € 45,00 | € 60,00 |
| TRIPLE ROOM | € 40,00 | € 55,00 | € 70,00 |
Price per week per apartment

| | | | |
| --- | --- | --- | --- |
| | Low Season | Mid Season | High Season |
| TWO-ROOMED APARTMENT | € 250,00 | € 350,00 | € 450,00 |
| THREE-ROOMED APARTMENT WITH ONE BATHROOM | € 300,00 | € 400,00 | € 500,00 |
| THREE-ROOMED APARTMENT WITH TWO BATHROOMS | € 400,00 | € 500,00 | € 600,00 |
| OTHER ACCOMMODATION UNIT (Piazzolina) | € 400,00 | € 600,00 | € 800,00 |
LOW SEASON: dal 09/01/11 al 02/04/11 - dal 09/10/11 al 17/12/11
MID SEASON: dal 03/04/11 al 17/04/11 - dal 26/04/11 al 25/06/11 - dal 04/09/11 al 08/10/11
HIGH SEASON:dal 26/06/11 al 03/09/11 - dal 18/12/11 al 07/01/12 - 18/04/11 al 25/04/11

Additional notes: check- in from 1600 hrs to 1900 hrs - check- out 1000 hrs Arrival times different from the above must be agreed on with the management. Booking is confirmed on receipt of a deposit: 30% of the total amount with conditions communicated at the time of booking; balance on arrival must be paid in cash.
From the time of acceptance of the booking, in case of cancellation of booking by the guest, the following cancellation penalties (except for particular agreements) shall be applied: from 30 days before the guest?s scheduled date of arrival to no-show: 100% of the deposit. Extra services:
Heating: € 3.50/ mc of gas for the apartments,
€ 10.00 per day for the rooms
Final Cleaning: € 25.00 for the apartments, € 10.00 for the rooms

Services:
Among the green hills, in the neighbourhood of the village of Piegaro, is the Farm Holiday Resort of Sirosa. During their stay, guests can make use of the barbecue area to enjoy pleasureable culinary moments and relax in the surrounding garden.

In addition we have a charming bowling green for the lovers of this game and a common room where to enjoy some table-tennis.

Thanks to the sale of local products one can savour the flavours of our land. In the neighbourhood you can visit the splendid historical villages of the Trasimeno tourist area. The principal locations of Umbria, like Assisi, Orvieto, Spoleto, Gubbio, Norcia, Cascia, Todi, Terni, Foligno and Città di Castello are also easily accessible.

A few kilometres away is the Umbrian Acquatic Park ?Piscine Intercomunali di Tavernelle?, with which we have a an agreement and where one can spend a day dedicated to having fun, both for the family and for the young. For those who want to plunge into the exciting world of horses, a short distance away, at the Vallemora Farm, is the ?La Fornace? Horseriding Centre.

A few minutes away by road one can reach the Tennis Club of Tavernelle, the enchanting Golf Club of Perugia (18-hole, 72-par course) and Lake Trasimeno, where, aboard one of the ferries, one can admire the splendid islands that characterize it.

How to reach us:
From Rome:
From the Fabro Exit, follow the directions to Perugia, cross Montegabbione and Piegaro, then, still in the direction of Perugia, after about 4.5 km turn right to Macerato and follow the directions to <'>Agriturismo La Sirosa'> going up about 3 km till you arrive at our resort.

From Florence:
From the Chiusi/ Chianciano Terme Exit, cross Po? Bandino and Moiano, follow the directions to Tavernelle, continue to Macereto and follow the directions to <'>Agriturismo La Sirosa'> going up about 3 km till you arrive at our resort.

From Perugia:
Proced in the direction of Città della Pieve, when you arrive at Tavernelle proceed to Macerato, then follow the directions to <'>Agriturismo La Sirosa'> going up about 3 km till you arrive at our resort.
Send an e-mail to Farmhouse La Sirosa


Didn't find what you are looking for? Try with other accomodations in Piegaro: