Umbria » Perugia » Bed and breakfast in Perugia » Bed and breakfast Montemalbe
Bed and breakfast Montemalbe in Perugia
Via del Larice 6 - 06131 Perugia (PG)

Phone number: 075 690553
Send an e-mail to Bed and breakfast Montemalbe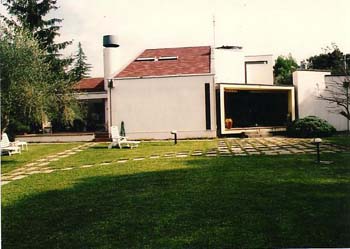 Description:
B&B Montemalbe is located 4km outside of Perugia, in a quiet housing area, on a little hill about a height of 500m, with lots of oak trees around. Our elegant and comfortable house is surrounded by a beautiful large garden (32ooqm), which invites you to relax on the lawn or under olive and fruit trees. We offer a cosy and well furnished double room with queen size bed, which can also be changed in two single beds if required. The bathroom with tube/shower is located just opposite your room and for your private use only. In our nice Veranda we serve you a plentiful continental breakfast. When it is time to pick up the olives from our twelve trees in the garden (middle of November) your help will be appreciated and compensated by free lunch and dinner, which we usually have all together also in this veranda.



Services:
The hydromassage tube for 2 persons is installed in our new wellness bathroom on the roof top. After a long sightseeing day you can relax in the warm turquoise looking water listening to soft music. (since electricity costs are very high, we ask for a little contribute of 5,00 for this certainly relaxing pleasure). Massages: we offer the following massages for your health and pleasure: foot reflex massage, anti-stress-massage with relaxing oils. Ayurveda massage with special oils according to your constitution type of Vata/Pitta/Kapha. Sauna : In our garden, in one of the nice wood huts, we offer you Finnish sauna, at the price of 12 euros..

How to reach us:
B&B Montemalbe is located 4 km outside of Perugia. You should get off the Superstrada at exit Perugia-Prepo, then follow the indication per the station (stazione) and on to San Marco (a suburb of Perugia), which you will have reached at the moment you can see the supermarket PAM on the right hand side of the main road. After having passed the PAM at San Marco, you always follow the road, turning a little bit left and going on in curves. Shortly after the indication Km 1(right), you will see on your left , the bus stop "Montemalbe". Having passed this stop, you get to a little crossing, where you have to turn left and drive up the hill, on a small, bumpy road with indications to Villa Montemalbe, Hotel Sirius and so on. After going up and having passed a little wood, you turn into the second street on your left, which is Via del Larice . Finally the second house, again on the left, to be recognized by a dark blue entrance gate, is our house No. 6, where we do expect You!Should there be any difficulties in finding us, just give us a ring on these numbers: 075 690 553 or 335 57 35 248, we will pick you up wherever you got lost.
Send an e-mail to Bed and breakfast Montemalbe


Didn't find what you are looking for? Try with other accomodations in Perugia: