Umbria » Perugia » Bed and breakfast in Perugia » Bed and breakfast Il Querceto
Bed and breakfast Il Querceto in Perugia
Via Arsenio Arcangeli 2 - (Strada Colomba Pecorari) 06134 - Bosco - Perugia

Phone number: 075.5913893

Mobile: 349.3263987
Send an e-mail to Bed and breakfast Il Querceto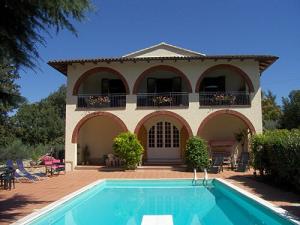 Description:
Il Querceto is an old farmhouse restructured in the eighties, surrounded by a park with swimming pool, a garden and a small portion of a wood of oaks and acacias. The structure has two apartments: one on a front swimming pool with entry on the same, the other adjacent to the garden with sight on the wood. The apartment Piscina has a living room with cooking corner, two double rooms with bath. It is able to entertain from 4 to 6 people with a large sofa bed, with possibility of one assistant bed. The kitchen compound refrigerator and oven. The apartment Giardino has a wide living room with large sofa bed and cooking corner, a double room with bath. The cooking corner is compound refrigerator, oven and dishwasher. With the addition of the communicating room Giardino the apartment is able to accommodate up to 6 persons plus a child. The room Giardino has independent entry with sight on the wood and comfortably hold 2 persons plus a child. The bath is in room.



Our rates:
Prices in € per room or apartment per night
Room
Apartment
High season :
70
170
Middle season :
60
140
Low season :
45
120
Added beds:
free for children until 14 years
7 € per night for boys from the 14 to the 18 years
10 € per night for adults
The prices are comprehensive of:
- water, electricity, gas
- set linen bed
- set linen bath
- set linen kitchen
- change linen every 7 days
- apartment final cleaning
- internal parking
- make use of swimming pool
- make use of barbecue
- make use of bowl field
- make use of child play area
- broadband wireless Internet access

Services:
At disposal in the park area an inside parking lot, the swimming pool, a bowl field, child playground and a barbecue.

How to reach us:
By auto
From the exit of the speedway E45 (SS 3bis) BOSCO-GUBBIO to turn to the left. To continue on the government Egubina (SS 298) direction Gubbio for around 600 ms. In correspondence of a visible car wash on the right, turn to the left. Go on through and through of the street, you arrives on a square with a great white gate. You have arrived.

By airplane
The international airport in Rome FIUMICINO is far away 180 km. The international airport in Florence A.VESPUCCI is far away 170 km. From the Regional airport of S.EGIDIO that alone is far away 4 km. Reaches the airport of S.EGIDIO the radio taxi can be called: 075-5004888.

By train
From Perugia, on the railway line Terontola-Foligno, reaches the railway station of Perugia Ponte S. Giovanni. Bosco is far away 5 Km.
Send an e-mail to Bed and breakfast Il Querceto


Didn't find what you are looking for? Try with other accomodations in Perugia: