Umbria » Perugia » Farmhouse in Perugia » Farmhouse La Vallata
Farmhouse La Vallata in Perugia
Voc. Vallata 27 - 06080 Fratticciola selvatica - Perugia (PG)

Phone number: +39 075 9029454

Mobile: +39 380 7222634
+39 320 0340805
Send an e-mail to Farmhouse La Vallata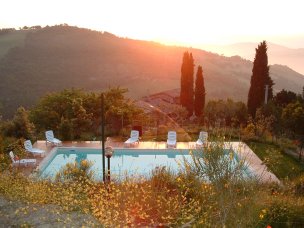 Description:
Art, Culture, Nature... The most beautiful view, the quietest place, the purest air... Escape from stress, come and breathe!



Our rates:
€ 45/night/single room including breakfast, heating and wood for the fireplace.
€ 65/night/double room including breakfast, heating and wood for the fireplace.
Apartments from € 90/night for the smallest apartment in low season to € 1380/week for the biggest apartment in high season.

PROMOTION: 2 nights -10%, +3 nights -15% (January, February, March, April and September)

Services:
appartments and B&B

How to reach us:
By car

On the E45 take exit BOSCO. Turn left towards PICCIONE-Fratticiola Selvatica. Arrived at PICCIONE turn right at the traffic lights towards FRATTICIOLA SELVATICA. After more or less 500 meters turn left towards FRATTICIOLA SELVATICA.

fly and driveThere are various ways to get in Umbria by airplane.
The cheapest one is flying with Ryanair from LONDON directly to PERUGIA, Sant'Egidio. This small airport is situated at about 20 minutes driving from La Vallata and has car rental services.
Virgin flies only to Rome (Fiumicino, Leonardo Da Vinci).
If you want to fly with Alitalia you'll have to fly to Rome or Milan first then transit to PERUGIA sant'Agidio (connections are very bad...).
Ryanair also flies to Rome (Ciampino) and Pisa for those who wants to take a peace of these cities before coming to La Vallata. Both destinations have car rental services.

by train (www.trenitalia.it)
The closest train station is Perugia - Ponte San Giovanni but since having a car here is not a luxury you might want to go to Stazione di PERUGIA. You'll find car rental services there.
Send an e-mail to Farmhouse La Vallata


Didn't find what you are looking for? Try with other accomodations in Perugia: