Umbria » Perugia » Farmhouse in Perugia » Farmhouse Il Poggiolo
Farmhouse Il Poggiolo in Perugia
06132 Localitą Poggio delle Corti - Perugia - Umbria

Phone number: 075 695236
Send an e-mail to Farmhouse Il Poggiolo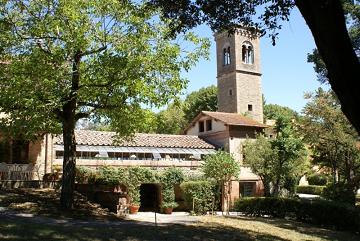 Description:
Amidst the beautiful setting of the Umbrian hills, lies the country inn Poggiolo, which welcomes its guests in the rooms of a 19th century Villa and adjacent outbuildings, mostly divided into apartments, expertly restructured to maintain their original features. The Villa and the outbuildings are at the heart of a park shaded by oaks, cedri, lecci, tigli and pines (pinus nigra). In the gardens, where guests can walk on the shade of secular trees, there can be found four fountains, of part concrete part bronze, dating back to the beginning of 1900's. Guests can make use of the swimming pool, and tennis court. There are also stables and horse riding facilities. Accommodation is available either at the Villa, in rooms, or in apartments located in outbuildings near the Villa. A small lodge at the edge of the park (Lilla), and two restructured rustics (Anemone and Fienile) within the park, are also available. The other apartments are Geranio1, Geranio2, Gelsomino and Ortensia.



Our rates:
Price list - Prices quoted are per apartment, per week. The price includes accommodation only

Apartment

High Season*

Low Season

Gelsomino (2 p.+1)

500 euro

380 euro

Ortensia (2 p.+2)

600 euro

450 euro

Geranio 1 (2 p.+2)

650 euro

550 euro

Geranio 2 (2 p.)

500 euro

380 euro

Fienile (2 p.+1)

500 euro

380 euro

Lillą (4 p.)

700 euro

600 euro

Anemone (10 p.+3)

1.780 euro

1.550 euro
Price quoted are per room, per night, with breakfast.

Rooms (Villa)

High Season *

Low Season

Room 1 (double)

100 euro

85 euro

Suite 2 (double+2 beds)

150 euro

115 euro

Suite 7 (double+2 beds)

150 euro

115 euro

Suite 3 (double+2 beds)

125 euro

105 euro

Suite 5 (double+2 beds)

150euro

115 euro

Room 6 (2 beds)

100 euro

85 euro

* High season is from 15.06 to 15.09 and from 23.12 to 10.01.
The apartments and rooms will be available, on arrival, from 4.30pm to 7.00pm. Guests are asked to depart no later than 10.00am. Prices are in euros, and a deposit is required at the time of booking. All major credit cards are accepted.

Services:
On request, we offer B&B (for guests in the apartments), half board or full board. Lunch and dinner are available at the restaurant Oio al Poggiolo (a converted greenhouse), located in the park, at a short walking distance from the apartments and the Villa. Guest renting an apartment or staying at the Villa can make use of the outside swimming pool and tennis court, also located within the park. Villa Poggiolo can be used as a highly qualified location for marriages, celebrations and different types of events using both the interior of the villa or its outskirts (the park and the lawns) and the adjoining buildings (restaurant, apartments, swimming pool and horse riding stables). Poggiolo includes also a farmhouse. It counts around 60 hectares cultivated to produce olive oil and wine. In the woods, there are beehives for the production of honey, and there are stables for the sheep (around 200 for meat production). The agricultural business has been awarded the organic certification 'ICEA', in conformity with Italian regulations.

How to reach us:
Villa Poggiolo is located 10 km from Perugia between the small hamlets of Pilonico Materno and Castiglione della Valle. The nearest airport is Perugia (Sant'Egidio airport 20km). Alternatively, guests can fly to either Pisa, Florence, Bologna (Bologna or Bologna Forli), or Rome airports, then travel by car. The nearest train stations are Perugia and Chiusi stations. We are happy to arrange pick ups to and from the station or the airport for our guests. The fees for this service will be provided, on request, at the time of booking. Driving instructions: exit Madonna Alta (from the Perugia/Bettolle superstrada) and follow directions for San Sisto, Cittą della Pieve, Castel del Piano, Pilonico Materno then signs for Villa Poggiolo.
Send an e-mail to Farmhouse Il Poggiolo


Didn't find what you are looking for? Try with other accomodations in Perugia: