Umbria » Penna in Teverina » Bed and breakfast in Penna in Teverina » Bed and breakfast La Chioccia
Bed and breakfast La Chioccia in Penna in Teverina
Località Montecchie 05028 Penna in Teverina (TR)

Phone number:

Mobile: +39 392 575 2093
Send an e-mail to Bed and breakfast La Chioccia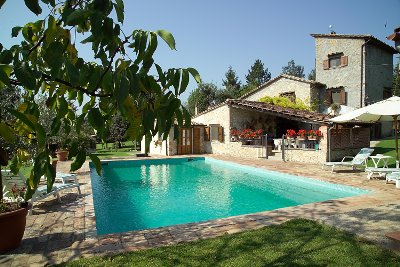 Description:
The ideal place to rest brain and body, 'La Chioccia' is a nice small B & B that gives great attention to the respect of its natural environment. The place, a typical old Italian country-style house or 'casale' with all modern comforts (including wi-fi internet access, central heating and airconditioning) was once part of a farmhouse and is very close to the medieval town of Penna in Teverina. Stone made, it has tiled floors and ceilings with wooden beams. It offers a warm and refined atmosphere.

'B & B La Chioccia' is a bed-and-breakfast accommodation with independent entrance, situated next to the main house. 'B & B La Chioccia' consists of a bedroom sleeping two in one double bed, and a large bathroom with sink, toilet and shower. The rooms have direct access to the swimming pool, which is reserved for the exclusive use of the guests at 'La Chioccia', and covered terrace with lounge furniture. The steps leading into the pool make it perfect for children. Beyond the swimming pool, a valley covered with olive groves and oak woods opens out. The property is situated in a beautiful, sparsely populated green valley, some 20 min from Terni, the provincial capital, and about one hour north of Rome.



Our rates:
Our all-inclusive prices are:

From 16 September until 14 June: 50 EUR/night or 310 EUR/week
From 15 June until 15 September: 70 EUR/night or 440 EUR/week

Services:
Capacity: two persons in bedroom with double bed and on-suite private bathroom.
The B & B accommodation is provided with: alarm clock, hair dryer, desk, fridge, ironing board and iron. Radio, board games, CD player, satellite TV. Free wireless internet connection.
Open fireplace, ceiling fans, central heating, external shutters, mosquito screens.
Baby cot. Fully fenced, child-safe garden with treehouse.
Free use of ping pong table and mountain bikes.
On-site parking available.
Pets of all kinds are especially welcome.

How to reach us:
Nearest airports:
- Rome International Airport (Fiumicino): 120 km (of which 110 km on the highway)
- Perugia International Airport: 110 km (of which 100 km on the highway)

'La Chioccia' is only 15 min away from one of the most important railway stations in Central Italy, Orte. Frequent direct trains connect Orte to the centre of Rome (Termini) in 35 min, and to the national airport at Fiumicino in 1.5 hours.
'La Chioccia' is situated at only 10 min from the main Italian highway, A1.
Send an e-mail to Bed and breakfast La Chioccia


Didn't find what you are looking for? Try with other accomodations in Penna in Teverina: