Norcia
Informations on Norcia
History of Norcia
Norcia is a very old town in Umbria, between the Sibiliini mountains. It is very old, it was inhabitaded since the Neolitic Age. It was then a Sabine city, since fifth century BC, the, during the -Second Punic War, became an ally and later a Roman municipium, known as Nursia. Roman ruins found in the city date back to the first century BC. Famous roman people from Nursia are the republic general Sertorio and Vespasia Polla, mother of the emperor Vespasiano. After the fall of the Roman Empire, Nursia is attacked and raided by barbarians; later the Lonbards (or Longobards, a barbarian people) conquer the city and rule it under the Duchy of Spoleto. Saint Benedict, the founder of the benedictine monastic system, and his twin sister Saint Scholastica were born here in 480. Later the city suffered Saracine invasion, and after a big earth quake, which almost destroyed the city, it came back under Papal control with the Albornoz restoration of the Papal rule in Central Italy around 1350. There is not much more to mention about the history of the city until 1860 and the Italy Reign, apart from a few earthquakes (1859, 1979) that destroyed many historical buildings.
What to see in Norcia
The main square of Norcia is one of the most beautiful piazze in Italy. In the center a statue of St. Benedict awaits you to guide you to the main Basilica, devoted to the Saint, dating back to the 13th century. It stayson the top of an old Roman building, maybe a Basilica, but consider as being the house in which the two saints were born. The main facade is in Gothic style; inside we can find two frescoes, Resurrection of Lazarus, (1560) by Michelangelo Carducci and St Benedict and Totila (1621) by Filippo Napoletano. In front of the basilica there is The Castellina, a fortress built around 1560 by the Pope, to control city riots. During the building of the fortress, a much older church was destroyed and rebuilt as Santa Maria Argentea. Next to the basilica we can also find the Portico delle misure, were merchants used to measure and weight stuff to sell. Around town, other nice churches and Roman ruins are visible. Few km from town you can visit Castelluccio di Norcia, a small village, inside the Park of the Sibillini mountains, where you can have nice walks or try the typical cuisine of Norcia, which includes various Pork meats and stuffs, such as salame or prosciutto di Norcia; in fact, the city is very famous for these stuff, in Italian the art of preparing pork meat is called norcineria!! Also, you should try the tartufo nero di Norcia (Norcia black truffle), it is wonderful with tagliatelle!
Accomodations in Norcia:
Have you got any suggestions about Norcia, errors to report or comments about the city of Norcia? Write us!
Norcia
tra i
Borghi più belli d'Italia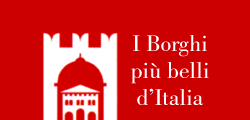 Norcia è Bandiera Arancione Touring club

Frazioni of Norcia: Agriano, Aliena, Ancarano, Biselli, Campi, Casali di Serravalle, Castelluccio, Cortigno, Forca Canapine, Forsivo, Frascaro, Legogne, Nottoria, Ocricchio, Ospedaletto, Paganelli, Pescia, Piediripa, Popoli, San Marco, San Pellegrino, Sant'Andrea, Savelli, Serravalle, Valcaldara