Umbria » Norcia » Farmhouse in Norcia » Farmhouse La Valle Del Sambuco
Farmhouse La Valle Del Sambuco in Norcia
Loc. Casali di Serravalle 06046 Norcia (PG)

Phone number: +39 0743 816151
Send an e-mail to Farmhouse La Valle Del Sambuco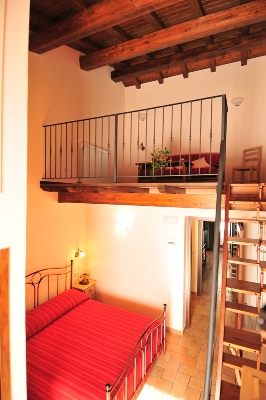 Description:
The farm accommodation La Valle del Sambuco (The Elderberry Valley) is situated in a valley placed 3 km away from Norcia. It's surrounded by the mountains and crossed by the Sordo River: the ideal place where to spend a short or long holiday being cuddled by the nature.

Thanks to its strategic position the guest can easily reach all the beautiful surrounding places. Indeed the farm accommodation La Valle del Sambuco is placed near Norcia, few kilometres away from Castelluccio, Forca Canapine and Cascia. Bedroom: the farm accommodation has 8 independent bedrooms with bathroom and TV. The bedrooms are warm and pleasant. The furnishing was chosen with care in order to join the modern comfort with the tradition. In each bedroom there is a wide wooden loft.

Breakfast and Living Room: when the guest gets up in the morning, he will find a healthy and rich breakfast prepared with care by Mrs Teresa: homemade cakes, jams and Salumi (processed pork meat) from pigs raised in open spaces.

Open all over the year;

Equipped for handicapped people.

The Farm La Valle del Sambuco only carry out organic farming. From lentils to roveja, from spelt to beans, from chickpeas to potatoes. Our entire production is checked by ICEA ( The Environmental and Ethical Certification Institute). The farm activity also include the raising of pigs in open spaces, horses and barnyard animals such as hens, chickens, rabbits and pigeons.

In the farm you can buy some typical products and bring home the flavours of the place and eat healthy products.



Send an e-mail to Farmhouse La Valle Del Sambuco


Didn't find what you are looking for? Try with other accomodations in Norcia: