Umbria » Magione » Bed and breakfast in Magione » Bed and breakfast Delgatto House
Bed and breakfast Delgatto House in Magione
Via case sparse villa, 23, 06063 Magione (PG)

Phone number: +39 075 8409450

Mobile: +39 339 1284459 - +39 331 3684787
Send an e-mail to Bed and breakfast Delgatto House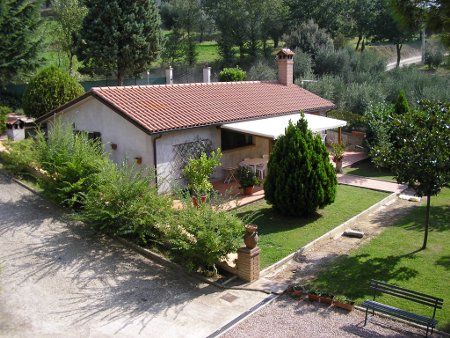 Description:
Bed and Breakfust was derived from the old "Stalletti" once used, in rural construction Umbrian, breeding of farm animals.

Surrounded by 200 olive trees and situated in a quiet country near Magione; a few miles from Corciano, Perugia, Trasimeno lake, Assisi and from all major tourist destinations of Umbria. The Tuscany is in 30 minutes by car. If you love the movement and the outdoors life, can discover nearby, by foot or bicycle, picturesque landscapes. The supporters of clean energy will have the opportunity to visit our photovoltaic center (150 kw).

The rooms are two, both with private bathroom, and are furnished with care, simplicity and elegance. The kitchen, the dining room and living room with sofa - bed complete the apartment. Style open space. Outside there is a veranda and a garden with barbecue. It's possible to rent a single room with bathroom (discounts available for a week) or both chambers with bathroom (discounts available for a week). Obviously in the second case you would have at your exclusive disposal the cooking area, living room, veranda and garden with barbecue.
With the sofa bed the apartment can accommodate up to 6 people.

What we propose is a rural holiday, to discover our suggestive landscape, without deprive you on strategic location for any city or mundane excursions.
We can also offer, upon request, original evenings with the flavors of Italian food without leaving from your accommodation. Cooking course avalaible.



Services:
Parking included. Scouter Honda 150 available on request.
Send an e-mail to Bed and breakfast Delgatto House


Didn't find what you are looking for? Try with other accomodations in Magione: