Umbria » Magione » Farmhouse in Magione » Farmhouse Il Cantico Della Natura
Farmhouse Il Cantico Della Natura in Magione
Voc. La Penna 50 Montesperello - 06063 Magione (PG)

Phone number: +39-075-841454
Send an e-mail to Farmhouse Il Cantico Della Natura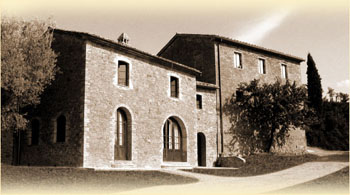 Description:
Relais and Organic Agriturism located in Umbria in a wonderfull panoramic position with Trasimeno Lake wiew. It offers hospitality in very intime and romantic rooms, suite with lake wiew and appartments. Named with the different names of months they have personalised bathroom and bath. Typical food in the nice Umbrian restouant perfect for a light candle dinner, large swimming pool, meeting and relax room, wellness center, 3 baby park area, barbecue area. Yoga and shatsu session, riding horse in the wonderfull green hills of Trasimeno lake, biking, trekking in the 42 hectare property. Mini shop with tipical farm product as jams, honey and olive oil. Training session as cooking class, shatsu and yoga, meditaiton path inside the nature

Room information

The 10 rooms, the appartment and the suite are finely restored and furnished with original'800. They are named after the months of the year they represent. Every month has its own colour and corresponds to a rural life phase; personalised bath, bathrooms, fabrics, objects matching with a specific month make a seasonal path at Cantico della Natura connected to life seasons as well. On request bathtub for 2 persons for a very intime moment. They are served with special attention: the boiler with a selection fo the ant tisane, fine bottle of grappa, delicate incense for a total relax athmosphere.

Area information

Relais Il Cantico della natura is situated at Montesperello di Magione, among the green Umbrian hills, with wonderful view on Lake Trasimeno, at 450 m above sea level. The farm being only 5 km away from the motorway and 4 km from train station and bus station, 30 km fronm the Perugia airport not only is easily reachable by any mean of transport but is located in a strategical position to visit Umbria, Tuscany and central regions as well. (3 km away from Lake Trasimeno, 15 km from Perugia, 35 km from Assisi, 70 km from siena, 120 km from Florence, 200 km from Rome).



Our rates:
Prices 2011
bassa stagione 01/10-30/04
media stagione 01/05-30/06 1-30/09 Week end (ven-sab)
alta stagione Luglio e Agosto 24-31/12 Pasqua e ponti
bed & brekfast tariffa giornaliera camera doppia
170
190
200
bed & brekfast tariffa giornaliera camera doppia uso singolo
100
120
130
bed & brekfast tariffa giornaliera Junior Suite
180
210
230
bed & brekfast tariffa giornaliera Suite
240
280
300
Miniappartamento (2+1) tariffa giornaliera
190
220
230
Miniappartamento (2+1) tariffa settimanale
1200
1350
1450
appartamento (6+2) tariffa giornaliera
400
440
470
appartamento (6+2) tariffa settimanale
2400
2800
3000
Letto aggiuntivo 30 Bambini completamente gratuiti al di sotto dei 5 anni, dai 5 ai 10 anni 30 euro per letto aggiuntivo, due bambini, paga solo uno.

Services:
Parking (fee required), Restaurant, Pets Allowed, Bar, Garden, Terrace, Non-smoking Rooms, Rooms/Facilities for Disabled, Family Rooms, Free Parking, Express Check-in/Check-out, Safety Deposit Box, Soundproofed Rooms, Chapel/Shrine, Heating, Luggage Storage, Shops in Hotel, Gay Friendly, Breakfast Buffet.

Activities

Tennis Court, Fitness Centre, Fishing, Games Room, Massage, Children's Playground, Biking, Walking, BBQ Facilities, Cycling, Horse Riding, Outdoor Swimming Pool.

Meeting/Banquet Facilities, Laundry, Breakfast in the Room, Ironing Service, Bridal Suite, Internet Services, Bicycle Rent, Packed Lunches, Car Rental, Fax/Photocopying, Free Wi-Fi Internet Access Included.

Food & Beverage

In the intime athmosphere lof the stone wall restaurant, guests can taste typical Umbrian dishes made out of natural and biological products from the farm and the from the region; in our philosophy food is a vital nourishment for a pleasant and healthy life, well expressed through gastronomic art. Moreover at the farm ,guests can have lessons on products preparation and on traditional cooking, on the basis of good taste and typical food.

How to reach us:
a) By car

From Florence - Rome A1 motorway, way out of Valdichiana_ Bettolle and drive direction Perugia. Before Perugia way out of Magione. At the exit, turn right towards the built-up area of Magione; after about 1 km, at the first crossing turn left direction Chiusi - S. Arcangelo. After about 1 kms, pass under the railway bridge, and after 20 meters turn left following signs to Montesperello. After another 2 kms, on your right you will see a panel (take the second panel and not the first being a bad white road) indicating Montesperello and an uphill road leading to the old village. You will arrive in a small square with ancient buildings at both sides; looking at the deserted church, turn left on the street without asphalt, leading to the town cemetery. Before the cemetery turn right in an uphill road leading to the woods. Drive straight ahead for 1 km and you will find Cantico della Natura.

b) By bus

Daily connections between Perugia and the main Italian cities. From Perugia there is a shuttle bus service to Magione.

c) By train

From Perugia direction Florence, interregional train stop at Magione station, 3 kms far from Cantico della Natura. The person in charge will pick you up at the station and take you to Cantico della Natura.

d) By air

Perugia airport (with daily connections to Rome and Milan, special flights in summertime) is 30 km far from dal Cantico della Natura, reachable by taxi in 20 minutes.
Send an e-mail to Farmhouse Il Cantico Della Natura


Didn't find what you are looking for? Try with other accomodations in Magione: