Umbria » Gubbio » Bed and breakfast in Gubbio » Bed and breakfast Il Canto Dell'asino
Bed and breakfast Il Canto Dell'asino in Gubbio
Loc. Santa Cristina 64 06024 Gubbio (PG)

Phone number: 075 920 185
Send an e-mail to Bed and breakfast Il Canto Dell'asino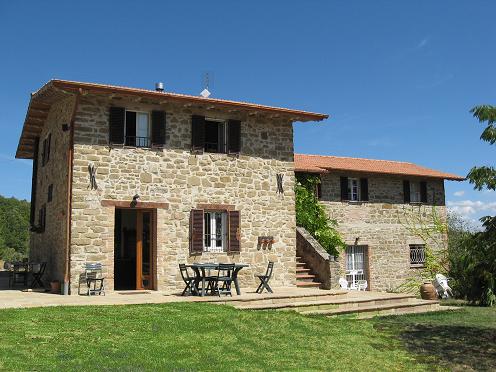 Description:
Our house is surrounded by green hills of Umbria, 500 m above sea level The land (more than 25 hectares) is partly wooded, partly pasture and arable land with the olive groves, vineyards and orchards. So for those who love nature can offer hiking, nature trails, hiking, walking with donkeys property. We have put the garden with deck chairs.



Services:
The typical stone is divided into two floors. Ground floor apartment of us Nicholas and Eleanor, on the upper floor accessible by stairs and outside, were placed in the rooms used for Bed and Breakfast. From the window you can enjoy a varied landscape always depending on the time. The view up to the towers of Perugia and Mount Amiata. The rooms are so called: Baby room: single with bath adjacent Low: 30.00 High: 35.00 Clean Room: double. Min: Max 60.00 70.00 Walnut Room, double Min: Max 60.00 70.00 The two bathrooms with showers are shared. We provide bed linen, towels, heating, cleaning, changing linen every four days. Breakfast, we serve in the dining room or in the garden is divided into fresh or salt water with a wide choice of local products. We offer photocopying, WiFi.

How to reach us:
1) Highway Florence-Rome: Exit at Valdichiana (north) and exit at Orte (south), take the highway to Perugia, continue towards Cesena, exit at Ponte Pattoli.

2) Motorway Bologna / Ancona: Exit at Cesena (north) and take the E45 towards Perugia / Rome. Before leaving Perugia Ponte Pattoli.
Take for Casa del Diavolo. At the country continue straight ahead for 7 km, 2 km after the restaurant "La Dolce Vita" turn right. Continue on the dirt road for about 1.8 kilometers.

3) Highway Ancona / Bologna: Exit at Fano (south) and take the highway towards Perugia / Rome. Prior to Perugia, Gubbio on state / Perugia, turn right towards St. Cristina. Continue straight ahead about 8 km. Turn left and continue for 1.8 km on the road.

Major events and festivals in the area:

Corsa dei Ceri (Gubbio, May) - Calendimaggio (Assisi, May) - Palio della Balestra (Gubbio, May) - Umbria Jazz (Perugia, July) - No Borders Gubbio Summer Festival: (Gubbio, August) - Show and Truffle Products (Gubbio, October) - Power of the Christmas tree in the world's largest (Gubbio, December-January).

Restaurants: 4 km - Shopping: 12 km - Gubbio: 15 km - Assisi: 30 km - Perugia: 27 km - Lake Trasimeno: 35 km - Park Nat. Monte Cucco - 20 km - Park Nat. Monte Tezio 15 km - Sea: 80 km - SS: 11 km - E45: 14 km - Station rai. Fossato di Vico-Gubbio: 25 km - Station rai. Perugia / Ponte S. John: 25 km - Station rai. Ponte Pattoli: 13 km - Bus stop Casa del Diavolo: 11 km - Bus stop Pattoli Bridge: 13 km - Bus stop Mengara: 11 km - Airport S. Egidio (Perugia): 30 km - Airport Falconara-Ancona: 135 km - Rome Fiumicino Airport: 225 km - 1.8 km dirt road.
Send an e-mail to Bed and breakfast Il Canto Dell'asino


Didn't find what you are looking for? Try with other accomodations in Gubbio: