Umbria » Gubbio » Farmhouse in Gubbio » Farmhouse Le Cinciallegre
Farmhouse Le Cinciallegre in Gubbio
Loc. Pisciano - 06020 Gubbio (PG)

Phone number: +39 075 9255957

Mobile: +39 347 0866889 +39 340 8986953
Send an e-mail to Farmhouse Le Cinciallegre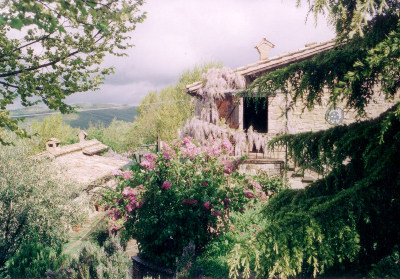 Description:
The Farm House Le Cinciallegre is located on the hilltop northwest of Gubbio and for his position and surroundings can really give you the chance to discover a new way of life. Le Cinciallegre is a small hamlet the origins of which date back to early 13th century. It is located at an ancient crossroads, once the meetingplace of local populations who gathered there to buy and sell wheat and other harvest products. In this delightful natural environment, 640 meters above sea level, overlooking the valley, guests can pass a relaxing week-end, or an entire vacation. The farmhouses making up the hamlet have been beautifully restored, absolutely in keeping with the traditional rural architecture of Umbria Peaceful walks along trails through thick oak forest, still wonderfully intact, provide the occasional encounter whit deer, pheasant, porcupine, hare and an infinite number of other pleasant surprises still up the sleeve of Mother Nature, despite man?s stubborn destructiveness. And all of this is just a sample of what Le Cinciallegre offers.



Our rates:
Bed and breakfast : € 35/50

Dinner, upon reservation : € 30 housewine and coffee included

Services:
At Le Cinciallegre, the concept of "vacation" has been radically trasformed. There, guests put at their ease in a friendly, homey atmosphere tailored to human needs, rediscover the charm of pleasant company and come back into contact with themselves. Sunk deeply in confortable armchairs before a cozy fire, the usual daily routine often made up of frantically running around in circles in the name of empty values, is shaken off back into contact with themselves. After dinner guests gather in an elegant, antique-furnished sitting room round the fireside,and feeling completely relaxed, sample rosolios and ratafias, specialities produced by Le Cinciallegre according to ancient recipes. Winter, Spring, Summer or Fall become part of you when are seen standing inside Le Cinciallegre Winter-garden. There guests breakfast and dine glancing out to the magnificient valley, meadows and woods surrounding the estate. The dishes served are characteristic of the area and include various types of peasant soups, fresh vegetables, home-made bread, and locally produced meats and cheeses, all washed down, of course, with genuine Umbrian wine. If you are looking for wholesome food and exquisite lunch, you found the best place at Cinciallegre! The livestock and kitchen garden produce is fully organic and form the basis of every meal. We offer our visitors Soups and Pasta, Meat dishes, Desserts and our Homemade Bread freshly baked daily. Every dish you will savour during your stay at Cinciallegre , is chosen and prepared by Maria Cristina, the owner and cook. During the permanence is possible to attend to cooking lessons on two days basis for a minimum of 4 and a maximum of 8 people: in the morning will take place the cooking and in the evening the guests will taste their own production.

How to reach us:
Our location is close to Gubbio, which itself is not far from Perugia. The following directions assume using toll roads because they are usually a much faster route than normal roads, but not very expensive.
Send an e-mail to Farmhouse Le Cinciallegre


Didn't find what you are looking for? Try with other accomodations in Gubbio: