Umbria » Gualdo Tadino » Bed and breakfast in Gualdo Tadino » Bed and breakfast La Rocchetta
Bed and breakfast La Rocchetta in Gualdo Tadino
Viale Roma Gualdo Tadino (PG)

Phone number: +39 340 25 84 881

Mobile: +39 329 73 30 489
Send an e-mail to Bed and breakfast La Rocchetta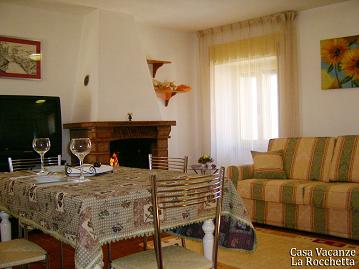 Description:
On one floor, it's extremly wide and very bright, 3 bedrooms, big bathroom, livingroom , kitchen, and hall a total of 90mq.

Independent entry, garage and a storeroom for bikes, childs stroller, handgliders and many other.

Casa vacanza la Rocchetta is located just a few meters away from source of the well-known spring water Rocchetta, in absolute position at the foot of a fabulous mountain Pineta del Soldato. A few kilometres from the most delightful Umbre city, is the main point to meet the nature, history,art and sport.

Ideal for who loves to allow oneself to be carried away by mystery of our middle age city, or desires a vacation of relax and nature. It's well located for reaching numerous cities such as Assisi (30 Km), Gubbio (18 Km), Foligno (25 Km), Perugia (55 Km), Grotte di Frasassi (35Km), Fabriano (18Km) and the Terme di Genga (22Km). This gives you the possibility to visit these cities, symbol of Umbria. With just a few minutes away by car or other services like train or bus.

The house is situated 200 meters from the historical center of Gualdo Tadino, at the gorge of the Rocchetta, which divides monte penna from monte Serra Santa. Close by the house you can find a Mini Market, public park, hospital(200mt.) and a swimming pool open all year around.



Our rates:
7 days up to 5 persons 460€* !
5 days up to 5 persons 380€* !
3 days up to 5 persons 280€* !

FREE MINIBAR!
BISCUITS, MILK, MARMELADES FOR YOUR BREAKFAST!


* Bed and bath lines: included - Water and electricity: included
Deposit 20%
Heating not included
Cleaning contribution 18,00 €





Send an e-mail to Bed and breakfast La Rocchetta


Didn't find what you are looking for? Try with other accomodations in Gualdo Tadino: