Umbria » Ferentillo » Country House in Ferentillo » Country House Guest house Runcini
Country House Guest house Runcini in Ferentillo
Vico San Vincenzo 3 - 05034 Ferentillo (TR)

Phone number: +39 0744 780717 Fax +39 0744780717

Mobile: +39 342 0621616
Send an e-mail to Country House Guest house Runcini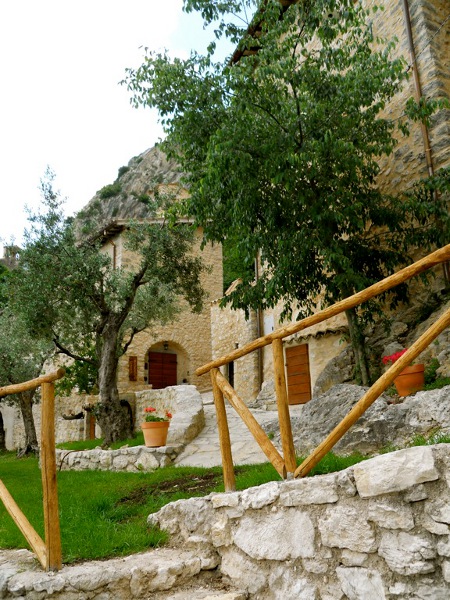 Description:
The Runcini Guesthouse is situated in an old medieval village, the Gabbio that overbears the Valnerina and the underlying community of Ferentillo. The units are at the beginning of this old village and the road that runs through it is part of its structure. The rooms are lodged internally of these completely reconstructed stone houses, maintaining the warmth and the history of the various elements with whom they were built and that have characterized them over the years. Casa Torre, Casa Dama and Casa Pietra are names that were given to the houses in order to mark the differences between one and the other. In each of the houses there is a space available including a distinctive well-equipped kitchen and places were one can comfortably relax while watching a movie. Each room has a private bathroom. The ?stone? itself has generated the name and the colour that the rooms are decorated in. The space is equipped with characteristic items that give our guests the possibility to feel at home. The area around the houses has a nice terrace with a lawn and olives where one can enjoy the environment and immerse into nature



Our rates:
Double € 60 - Double single use € 40 - triple € 80

Services:
Reception h24, Garden, riscaldamento, deposito bagagli

Children's Playground, BBQ Facilities, Outdoor Swimming Pool, Fax / Photocopying.

Wi-Fi is available in the rooms free. Free public parking.

How to reach us:
By car

When coming from Rome - Florence

Highway A1 Rome - Naples, exit Orte. Take the connecting highway Orte - Terni, exit Terni east, follow the indication for the city center, then for Valnerina, ?Cascata delle Marmore?, and follow until Ferentillo, at the crossway follow on the left for Matterella, when arrived at the main place, before the church, take a left for Via Campania, keep to the left and after a few minutes you have reached the Guesthouse Runcini.

By train

From Rome Termini there are trains almost every hour, direction Ancona, Perugia, Foligno and Terni, with a stop at the station Terni where, when crossing the street there is the bus station where one takes bus N° 21 for Ferentillo.

For train hours and connection please check www.trenitalia.it
For bus hours and connection please check http://www.atcterni.it/contenuti/indicextra.html

By air

Regional airport Umbro Sant'Egidio is at 90 Km. from Terni Tel. 075 592141 http://www.airport.umbria.it/

International airport Leonardo Da Vinci - Fiumicino ? Roma, is at 120 Km. from Terni Tel. 06 65951 information flights: 06 65953640 http://www.adr.it/home/fiumicino_it.htm

International airport Ciampino? Roma, is at 120 Km. from Terni http://www.adr.it/home/ciampino_it.htm

Airport Raffaello Sanzio - Falconara -Ancona, is at 175 Km. from Terni, Tel. 071 28271 http://www.ancona-airport.com/
Send an e-mail to Country House Guest house Runcini


Didn't find what you are looking for? Try with other accomodations in Ferentillo: