Umbria » Corciano » Bed and breakfast in Corciano » Bed and breakfast La Contea
Bed and breakfast La Contea in Corciano
San Mariano di Corciano, Via Cattaneo, 25 Corciano (PG)

Mobile: +39 333-1272546 - +39 328-2273250
Send an e-mail to Bed and breakfast La Contea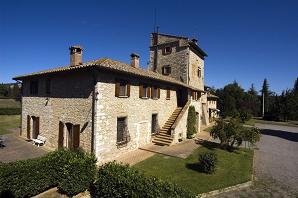 Description:
The B&B La Contea will give you the opportunity of living in a 16th century tower house. The house is full of history and it mirrors the different uses and owners of the last 500 years. The tower was built by the noble family Anastagi, as can be seen from the remaining coat of arms on the tower, which had the primary purpose of territory control. During the 18th century the tower became part of a large property of the monks of San Filippo Neri. At the beginning of the 19th century, as a consequence of Napoleon's laws, the monks were forced to sell the house. The new owners - the Valigi family - kept the tower house in the 19th century and tranformed it into the big farm house we can see today. The family built the big stable and used the upper part of the tower to breed doves. A tobacco dryer was built beside the tower-house in the first half of the 20th century. The Ranucci's family restored the historical house and the park all around in the last 20 years until the opening of B&B La Contea in October 2006. The adjacent Perugia Golf Club offers wonderful views from our windows and special prices to our guests. The house is 15 min. from Perugia and from the Trasimeno Lake (20 km from Assisi, 30 km from Todi, 40 km from Bevagna and Gubbio).



Our rates:
Single room: min. € 40 - max. € 50
Double room: min. € 70 - max. € 90
Triple room: min. € 80 - max. € 110

Prices includes breakfast, linen and cleaning.
Special prices for groups and long stay.

Services:
Large, elegant rooms, furnished in the historical style of the house, private bathroom and TV.

Services

- parking
- TV
- picnic area
- free bike
- Golf Club Perugia (special prices for our guests)

How to reach us:
By car

- From Florence (150 km.): A1 Firenze/Roma, exit Valdichiana, connection Bettolle-Perugia, exit at Corciano and follow the traffic signs for San Mariano
- From Rome: A1 Roma/Firenze, exit Orte, follow the direction to Perugia, exit Olmo or Corciano and follow the traffic signs for San Mariano

By train

Railway stations of Perugia (7 Km) or Ellera-Corciano (1,5 km)

By plane

The International Airport of S. Egidio Perugia is 20 min. far (bus, taxi, rent a car)

Minimetrò

Terminal with free car park 10 min. far
Send an e-mail to Bed and breakfast La Contea


Didn't find what you are looking for? Try with other accomodations in Corciano: