Umbria » Collazzone » Bed and breakfast in Collazzone » Bed and breakfast Suite Umbria
Bed and breakfast Suite Umbria in Collazzone
Strada Piedicolle n°14 06050 Collazzone ( PG )

Phone number: +39 392 6243189

Mobile: +39 0532 793820
Send an e-mail to Bed and breakfast Suite Umbria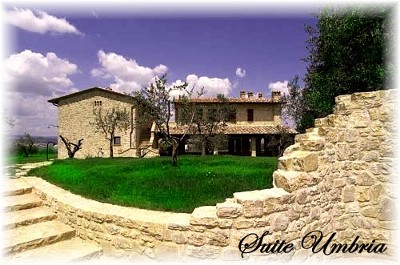 Description:
Suite Umbria is a fine example of how it is possible to rescue and restore a typical Umbrian rural building.Located at an altitude of 450 m. it enjoys a panoramic position with 360° view of the Umbrian hills : visible in the distance are historic towns such us Todi,Pantalla,Montecastello di Vibio,Marsciano, Collazzone and Perugia.

Situated on the edge of a large wildlife park Suite Umbria stands out for its peace and quiet.
The soundtrack is provided by nature,so all you can hear is the tuneful singing of the birds and water splashing in the funtain or lapping in the beautiful infinity pool.

The infinity pool which has been designed to provide optimum pleasure and every modern confort,has some truly unique features. The water recirculation system creates a delightful gurgling sound that makes the pool as " alive " and suggests a pleasant sensation of refreshment. The paved solarium is characterised by an area bathed with a trickle of overfill water : this provides a wonderful sensation of freshness and heightens the pleasure of sunbathing reclining on the comfortable loungers scattered around the pool.

All of this in a truly peaceful atmosphere in a private space surrounded by olive trees and green woodland.
The self catering apartments rooms and suite offer the greatest comfort in an environment studied in minute detail All with a marvellous view on the Umbrian Hills and are very quiet.

The bedrooms are very comfortable, all distinguished by rustic décor each with a private bathroom and personal shower; every bedroom is characterized by its own unmistakable style. Colors and furnishing, taylor-made for each room, give a touch of individuality and pleasant harmony. Confortable beds, Breakfast in your room if you need it, Color Tv,Mosquitos protection, Alarm clock, Panoramic view,Daily cleaning. The apartment accomodate from 2 to 7 people. Two bedrooms, two bathrooms, sofa bed, living room, kitchen room and panoramic terrace. Direct access to the garden with reserved area with tables and chairs.

To the morning the breakfast is served in a beautiful room near the lodgings overlooking the garden of the swimming pool.Our breakfast is composed of milk, coffee, tea, jams, fruit's juices yogurt,eggs,cold cuts, cereals and good handmade cakes complete the proposal. Collazzone andSuite Umbria are located within walking distance from places of interest in the umbria region.



Services:
Your pets - all sizes - are welcomed all year round with no extra charges.

All apartments and Rooms have Color TV.

At the ground floor Room easily accessible to the disabled

Barbecue and Parking are free for our Guests.

The holiday farm has a splendid swimming pool ? surrounded by a lawn and olive trees ? and with a view over the valley. It is of course completely free for our guests.The swimming pool is open all day and is free. The limited depth of water makes it safe for children, who can enjoy it without their parents? surveillance

All apartments and Rooms have their independent central heating

Safe in all our Rooms and apartment

How to reach us:
Motorway A1
From North : exit Valdichiana raccordo Perugia Bettolle, Ponte San Giovanni Deruta and follow signs and direction for Piedicolle
From South : exit Orte direction Terni, Todi exit Pantalla direction Piedicolle

Superway E45
Exit Pantalla and follow Signs and direction for Piedicolle

Air Information
There are daily flights to and from Milano Malpensa airport. Perugia Saint Egidio Airport ( 35 minute taxi ride from the airport )

Train Information
From South : Roma - Foligno - Perugia
From North : Firenze - Terontola - Perugia
( 35 minute Taxi ride from Perugia central railway station )
Send an e-mail to Bed and breakfast Suite Umbria


Didn't find what you are looking for? Try with other accomodations in Collazzone: