Umbria » Assisi » Bed and breakfast in Assisi » Bed and breakfast Madre Terra
Bed and breakfast Madre Terra in Assisi
Via Madre Terra 29/A 06081 Assisi (Pg)

Mobile: +39 328 4884011
Send an e-mail to Bed and breakfast Madre Terra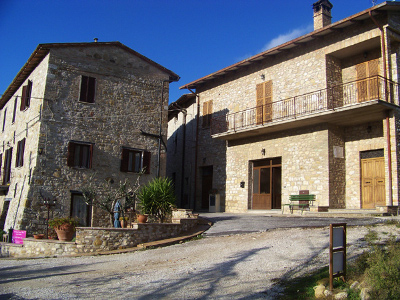 Description:
Apartments b&b Madre Terra or Apartments Barabani Stefano (the owner) located in the heart of green Assisi, lying at the very slopes of mount Subasio, only 800 meters from the historic center. The soft green of olive cannot hide the wonderful landscape of the Umbria valley. Thanks to its favorable location is the perfect place from which explore other areas of the region, Todi, Spoleto, Perugia, Gubbio, and further more Rome. Moreover our ?Shuttle? (available on request) can bring guests where they need such as train stations, airports. Guests can hear the creek nearby and the sang of many birds from the apartments.



Our rates:
High season
Low season
Week
2 persons
€ 30,00
€ 35,00
€ 290,00
3 persons
€ 25,00
€ 30,00
€ 360,00
4 persons
€ 22,00
€ 25,00
€ 420,00
5 persons
€ 18,00
€ 22,00
€ 480,00

Services:
On the ground floor of a country house, completely renovated, the guests have 1 triple and 1 double room for two independent apartments each one with fireplace, equipped with private bathrooms and furnished to every need including TV, Kitchen, private parking. All for a stay in complete comfort, with no plans and schedules, receiving ?a touch of Italy? that hardly should receive in any other structure. Bed and breakfast service is provided and it is included in price rate: if guests don?t need breakfast they will receive a discount of 5%. The railway station is about 3 miles far from the house, taxies and bus station only 0,5 miles, swimming pool and tennis court about 0,7 miles. The shops are easily reached by foot or by bicycle. We can manage several tours as you can check our ?excursions and shuttle? link to reach the top of Mount Subasio or the wonderful Santa Maria degli Angeli. We will suggest our guests about the main place to eat very Italian taste, or drink our wonderful wine, or buying nice gifts.

How to reach us:
Follow the instructions to reach the town of Assisi: follow directions to the hospital. Overcome the hospital and take the first turning on the right; keep on this road for 0,5 miles and you will find us on the left behind a short ascent.
Send an e-mail to Bed and breakfast Madre Terra


Didn't find what you are looking for? Try with other accomodations in Assisi: