Umbria » Assisi » Farmhouse in Assisi » Farmhouse Val D'olivi
Farmhouse Val D'olivi in Assisi
Via Pieve di S. Apollinare 3 Capodacqua di Asisi - 06081 Assisi (PG)

Phone number: +39 0742 22416

Mobile: +39 338 7753578 +39 392 1150275
Send an e-mail to Farmhouse Val D'olivi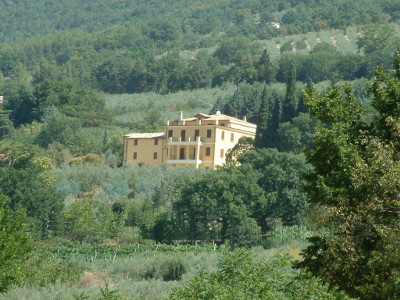 Description:
Villa Val D?Olivi is a property located in a splendid panoramic position on the Assisi hill. Located among the olive trees, typical of the area, villa Val D?Olivi is ideal for relaxing holiday also as a starting point for interesting trips as it close to all important Umbrian center as Perugia, Todi, Orvieto but also Spello Bevagna and Montefalco, etc. Dating back to 1863, the farm holiday complex, Villa Val d?Olivi, composed of an ancestral family villa and a detached house, is nestled in a quiet park-like setting completely surrounded by olive groves and secular cypresses and far away from the noise of busy traffic. In addition to its mystical atmosphere and artistic scenery, the Villa Val d?Olivi, offers excellent high quality products like the D.O.P (protected designation of origin) extra virgin olive oil, D.O.C wines: Assisi White and Red wines, Montefalco Sagrantino Red, wines of the Cantico and also truffles, lentils, zafferano, salumi (coldcuts), cheeses and typical desserts. The Villa has an International School of languages offering foreign languages courses with certification. In addition, courses of Italian for foreigners with full immersion sessions are also offered.

The villa has always been a property of the Cipolloni family, recently restored, the Villa retains its original character as an elegant private residence. Entering through the original stone doorway, you will reach a large hall designed with the original Venetian style flooring, which creates a mesmerizing game of colours and decorative motifs repeated throughout the rest of the home. On the first floor, a large reception hall is divided into three luminous and spacious sections. The flooring is decorated with Franciscan symbols and there is a large panoramic terrace, a bathroom and a kitchen complete the floor plan. The sleep quarter is composed of 6 bedrooms with disable facilities, all adorned with original family furniture and having private bathrooms.

We offer 2 apartments for visitors that are found in the detached house of the villa. The first can accommodate up to 7 people and the other accommodates 5 people. They are all finely restructured and feature all of the commodities: bathroom with shower, a fully-equipped kitchen, linens and towels for the kitchen, bedrooms with private bathrooms. In addition, a change of linens, cleaning service and cribs are available upon request.



Services:
In addition to its mystical atmosphere and artistic scenery, the Villa Val d?Olivi, offers excellent high quality products like the D.O.P (protected designation of origin) extra virgin olive oil, D.O.C wines: Assisi White and Red wines, Montefalco Sagrantino Red, wines of the Cantico and also truffles, lentils, zafferano, salumi (coldcuts), cheeses and typical desserts. The Villa has an International School of languages offering foreign language courses with certification. In addition, courses of Italian for foreigners with full immersion sessions are also offered. Villa Val d?Olivi is connected with all the Umbrian town: Perugia Assisi, Spello, Trevi, Bevagna and other interesting places

How to reach us:
From the noth
Motorway A1 exit at Val di Chiana
Towards Perugia
Exit E45 towards Assisi on the S. S E45
Exit at Cannara n.9
Towards Assis
i At Capodacqua

From the south:
Motorway A1 exit at Orte
Towards Terni Spoleto Foligno
Towards Perugia SS 75
Exit at Cannara n.9
Towards Assisi
At Capodacqua
Send an e-mail to Farmhouse Val D'olivi


Didn't find what you are looking for? Try with other accomodations in Assisi: