Umbria » Assisi » Farmhouse in Assisi » Farmhouse Le Querce Di Assisi
Farmhouse Le Querce Di Assisi in Assisi
Loc. Possidone 51 Costa di Trex - 06081 Assisi (PG)

Phone number: +39 075 802332
Send an e-mail to Farmhouse Le Querce Di Assisi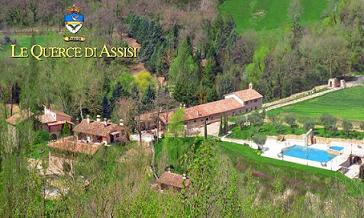 Description:
If you are looking for nature and culture, if you are searching for a better relationship with yourself and the world, serenity, spirituality, if you are seeking for a solution to daily stress, to iniquity, social tensions, violence, psychological destabilization, if you are looking for a vacation that might recharge body, mind and soul, please come to Assisi, come to Le Querce di Assisi village. A village built around an old XIII century francescano mill, surrounded by the woods of Assisi in the Tescio valley within the Subasio resort. Special places where life runs in a different atmosphere, mystic places in touch with the uncontaminated nature of Umbria with several wild animal species, where one can contemplate the transcendence in such a holy site and regain faith. You will not find luxury or refined formalisms, you will find all services and comfort, receptive and independent rooms and apartments, pleasantly furnished with original country style wood furniture, mystic images, natural and handicraft materials and objects. You will find modern comfort and services such Satellite TV, telephone, Internet access, safe and heating, all framed by an idyllic and suggestive atmosphere, a typical restaurant with traditional local cuisine, a great medieval style hall for common activities with a bar, a cellar supplied with a remarkable selection of local wines in front of which, in the large terrace on the Tescio, at dinner time, in summer, we meet for an aperitif and the wine tasting. The beautiful terrace on the Subasio resort is supplied with a swimming pool and Jacuzzi, it is surrounded by our unmistakable

THE HISTORY

In 1200 A.D., at the time of S. Francesco, the Tescio (a stream that touches Assisi) was running upwards compared to the present course; all the area behind Assisi was wild and without streets. The only street was a narrow path that was following, from Assisi, the course of the river up to the towns of Satriano and Nocera Umbra. Where the village is today, there was once an obligatory passage crossing the river; the site was therefore called Passidone and it is told that S. Francesco himself, in his pastoral pilgrimages, passed here.In 1226 A.D., S. Francesco, being very ill in Nocera Umbra, was brought back by a group of knights by walking in the way from Satriano and Assisi crossing the river right here where we are, in Passidone. In remembrance of that special event, every year, on the first Sunday of September, a free open ride, called Cavalcata di Satriano, is organized.It 1300 A.D., as a consequence of the rural development of the area, a watermill with a stone granary, that is still existing, was built.Later, through the following centuries, the stream slightly diverted its direction, diminished its flow and lowered its river bed.Consequently a canal made of stone and brick was built and, bringing a huge quantity of water from above, was taking it towards the mill, (where still nowadays the ruins can be seen), at the level of the present cellar, passing through a big medieval pool where until less than a century ago people could bath in summertime with great pleasure.The Tescio water, in fact, is fed at a distance of less than 1 km upwards by sulfuric springs that the local farmers used to drink in case of stomach diseases. Because of the cultural transformation imposed by the Pontifical State and, in consequence of the countryside exodus, the mill became economically inconvenient and was closed in the year 1800. A family of old farmers lived in it while being in service of Count Bartocci, a representative of the Pontifical Curia and lord of all the surrounding lands.For a century the mill has been a farm and a center of agricultural and zootechnical production; only recently Professor Roberto D?Arrigo, fondly impressed by the mysticism of such places, decided to convert stables, granarys, the poor homes and whatsoever, in a tourist facility that may convey to others those sensations of austerity, peace and universal friendship.

THE SWIMMING POOL

AN ENCHANTING TERRACE ON THE SUBASIO
The location of the swimming pool is apart and reserved. A sapphire mounted among emeralds, an architectonic jewel totally surrounded by green, a wonderful terrace with a breathtaking view on the Subasio. Built in 2003 with the most modern criteria such as: electronic disinfections system (without chloral gas emissions), sand multiple filtering, 4 places hydromassage with separate pumping controlled by 2 buttons displayed on the edge, totally built with local stones. The Romanic arch is made of the original ruins of a destroyed ancient structure. Besides the existing old olive trees, new ones have been added. Northwards, a room, our gym, has been dug into the rock.

Our Cuisine

Our cuisine shall surprise You with the use of genuine products coming from our land. Tradition and simplicity of our countryside regional culture shall give You a pleasant remembrance. All served dishes are prepared at the moment and respect the regional traditions. We use uniquely products of our own farm, or products of farms that belong to our region. The bread is traditionally Umbrian, without salt, according to our tradition, because of the high taxes once imposed over salt. Breakfast is served at the buffet, following the international standards, enriched by local products such as ricotta cheese, hams, local cheese, fresh goat milk, cakes and fresh homemade biscuits. For further information about our dishes, we suggest You to have a look at the Menu and typical recipes page.

MEDIEVAL DINNER.

It is the most emotional and suggestive moment that arises a powerful attraction and pleasure:The village changes, the golden and mild sunset light reflects on the houses? white and pink stones and the atmosphere becomes fantastic. After a while, the sinsiter and shaking torch rays make scarcely glimpse the horses and donkeys shadows, the silent coming and going of the maid servants, the servants and knights in their surreal costumes. A sound of pipes, drums and trumpets comes by, a group of musicians sing an ancient romance as if they were coming out of an old Pinturicchio painting. The fairy tale starts and you feel as if you were in an ancient 15th century inn; everything is medieval, the courses, the old recipes, the lost flavours and the songs. This is a dreamful, unique, exciting and unforgettable night. (Dates of the programme are available at the front desk)



Our rates:
B&B Person/night Min € 45,00 Max € 65,00
H.B. Person/night Min € 75,00 Max € 95,00

Flats :

One bed - Per week : Min. € 650,00 Max € 850,00
Two beds - Per week : Min. € 1050,00 Max € 1400,00



Services:
Fixed taxi service: Mr. Paolo Tel: 335-6350090 (Link to the Railway Station - Le Querce di Assisi Village from € 25,00)
Rental of medieval clothing for taking part to the suggestive historic/folkloristic representation Calendimaggio of Assisi.
Shuttle Service, for those who are not using a car, to the Sunday Holy Mess at the Madonna dei tre fossi Sanctuary (2 Km.) at 10.00 a.m. - by booking.
Weekend shuttle service, for those who are not using a car, to Assisi - by booking
Payservice for Medic and Paramedic Assistance. Telephone Request Service for doctor visit on week-end.
Fax service at the front desk, with charge of the phone expense only.
Reservation and telephone services towards external points, to be effected at the front desk with the only charge of the telephone expense.
Printing service for maps and excursion guides, according to their availability -Booking in advance is recommended.
Cradle availability in the bedroom.
Daily room cleaning service (included in H/B or B/B fares). Cleaning service for apartments (to be paid separately if the apartment is rented).
ADSL Internet Service at the front desk or in single rooms and apartments with charge of the single phone expense only.
Valuables? storage Service at the front desk with warranty. Safe Service in bedroom, (only in the disposed apartments), following specific request.
Baggage Custody Service and temporary Deposit of Valuables, (on demand).
Laundry and ironing service, on demand and to be agreed at the front desk.
Special Meals Preparation Service, to be agreed upon, (in advance), with the kitchen personnel.
Car rental service: in Bastia Umbra - Via San Bartolo - Tel. 335-428539, in Perugia : S. Egidio Airport - AVIS - Tel. 075 6929796
Agreement for purchasing typical local products in Assisi: Galleria del Gusto - L?OLIVO - Corso Mazzini, 12 - Tel. 075816105, Sapori dall?Umbria - Via Becchetti, 7 - (S.M. Angeli), Tel. 0758041298
Agreement for riding school and horse riding with instructor: I Trocchi, Mrs. Simona - Tel. 075802461 -Fixed price of € 18,00 per riding hour (starting from June)
Agreement for Massage and Physiotherapy, with graduated specialist in Shiatsu and Music-therapy: Mrs. Nadia Ligato - Tel. 339 8055059 www.jai.it/shiatsu/
Agreement with local typical restaurants: 7 Km. far away Restaurant La Piazzetta delle Erbe - Via S.Gabriele Dell?Addolorata, 15/B - ASSISI - Tel. 075 815352 9 Km. of distance - Restaurant Magna e vino- Via Franclancia, 2 - ASSISI - Tel. 075 816814
Agreement for purchasing ancient furniture and antiques in general: La Bottega of Granci Arnaldo, Industrial Area (Regnano) Città di Castello - Tel. 075 8558415 (Resellers? price for us)
Agreement school and excursions in quad : Azienda Baldini S. Maria di Lignano - Tel. 075 802182 - Hour fare to be agreed
Agreement for purchasing Umbrian artistic pottery. In Assisi: CE.RO.GIA - Via Mazzini - Tel. 075815144 Ditta Marrani - Via S. Francesco 12/A - Tel. 075816107 In Deruta: Pottery firm EL FRATE - Piazza dei Consoli, 29 - Tel. 0759710729, TORRETTI ceramics Strada E7 - Tel. 0759711342
Agreement for tickets with travel agency: Il MANUALE DEI VIAGGI - Via Risorgimento 4/6 - S.M. degli Angeli. - Tel. 0758044406

How to reach us:
After reaching Assisi, take the road to Gualdo Tadino and at precisely six kilometers turn right in the direction of and . After 1 Km you will have reached us.
Send an e-mail to Farmhouse Le Querce Di Assisi


Didn't find what you are looking for? Try with other accomodations in Assisi: