Umbria » Assisi » Farmhouse in Assisi » Farmhouse La Castellana
Farmhouse La Castellana in Assisi
Costa di Trex 4 Costa di Trex - 06081 Assisi (PG)

Phone number: 075 8019046
Send an e-mail to Farmhouse La Castellana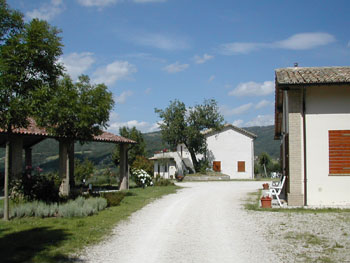 Description:
The farm is in the hill country, 500 metres above sea level, in the Natural Park of Mount Subasio. La Castellana offers lodgings in two houses about 1 km apart, bathed in greenery and surrounded with hills, meadows and woods.



Services:
We offer rooms, bedsits with kitchenette, and a two-room (one double and one for three people) apartment, kitchen and bathroom. Every lodging has an independent entrance, private bathroom, autonomous heating, TV, and a parking space. La Castellana has no restaurant service for meals, but we do provide breakfast for our overnight guests.

How to reach us:
La Castellana is an oasis of calm and therefore an ideal place for total relaxation, but at the same time it is not very far from Assisi (5 km) and the most beautiful towns of Umbria: Spello (15 km), Perugia (30 km), Todi (50 km), Gubbio (40 km), Spoleto (45 km) and Orvieto (80 km).
Send an e-mail to Farmhouse La Castellana


Didn't find what you are looking for? Try with other accomodations in Assisi: