Umbria » Amelia » Bed and breakfast in Amelia » Bed and breakfast La Gatta
Bed and breakfast La Gatta in Amelia
Fornole di Amelia - Via Amerina 81 Fornole - 05020 Amelia (TR)

Phone number: 0744 989134

Mobile: 338 3111440
Send an e-mail to Bed and breakfast La Gatta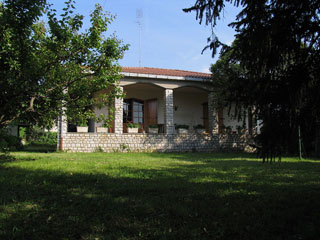 Description:
Pleasant villa dipped in the green, reachable by car covering 3 Km from the exit for Amelia of the E45 Orte-Terni motorway, 15 Km from the exit of the A1 motorway , 200 meters from the historical center of Fornole and 4 Km. from Amelia.
The villa offers large space for the relax inside and outside with a large living room extending to the garden from a large terrace where it is possible to have a breakfast and to enjoy the view of the garden .
Bright rooms with private bath .
It is possible to watch the Tv in the lunch room , parking car area is available.



Our rates:
Price for 2 persons 60/80 Euro
Price may change depending on the duration of your stay , the chosen room and the season.
Additional bed Euro 15

Services:
Breakfast , based on local products , is served on the terrace or the living room.
Booking for excursions of every kind , like trekking , rafting, canyoning , spelaeology , can be done directly on site.
Send an e-mail to Bed and breakfast La Gatta


Didn't find what you are looking for? Try with other accomodations in Amelia: