Umbria » Alviano » Holiday house in Alviano » Holiday house Playhorse
Holiday house Playhorse in Alviano
Voc Pupigliano, 25 - 05020 Alviano Scalo (TR)

Phone number: +39 0744 905098
Send an e-mail to Holiday house Playhorse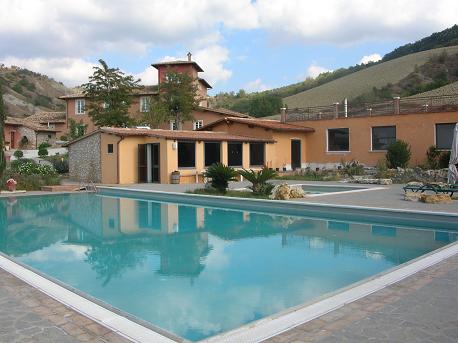 Description:
The Country House Playhorse is a' biological agricultural firm rigorously, to family management, 50 cultivated hectares to cereals and forage in which the rule of the absolute respect of the nature is in force to 360°.

The rooms and the apartments are endowed with all the comforts. The apartments have 2 baths one with shower the other with tub hydro massage. All the apartments have the fireplace in stone and they are endowed with Kitchen, stay, zone lunches and 2 bedrooms.

The rooms are 11 all with tub with exception hydro massage of 3 that they have some showers. Anywhere cooked ancient, beams to sight, original furniture of the epoch.

The permanence near of us he/she will offer the opportunity to the guest to enjoy some total privacy and romanticism of the apartments or rooms, the all realized with attention to the particular ones, as also to make a sporting and active vacation using the existing equestrian structures inside the firm.

The country house Playhorse is the fruit of a sophisticated restructuring of an agricultural complex, readapted to receptiveness of charm.



Our rates:
Apartment from 1 to 2 guests 120.00 € to night from 3 to 4 guests 160.00 € to night

Services:
Restaurant, horseback riding, comfort and fitness.

How to reach us:
Going out of the tollgate of Attigliano to turn to the left to the right immediately and then. Past Attigliano, after the narrow bridge above the railroad, the before to the left. To continue in direction Alviano Scalo.

Going out of the tollgate of Orvieto to take to the left direction Basque. After Basque, to follow for Madonna of the I Bring and then for Alviano Scalo. Arrivals to Alviano Scalo, to the rotatory one, to turn to the left for Alviano Centro. After 700 mt. Of rectilinear, to the left it is Word Pupigliano. To cross him/it for 800 mt. Ended the asphalt, 200 mt there is to the right our gate.
Send an e-mail to Holiday house Playhorse


Didn't find what you are looking for? Try with other accomodations in Alviano: