Umbria » Acquasparta » Farmhouse in Acquasparta » Farmhouse La Perticara
Farmhouse La Perticara in Acquasparta
Via Campagna localitą Portaria 05021 Acquasparta (TR)

Phone number: +39 0744 931171
Send an e-mail to Farmhouse La Perticara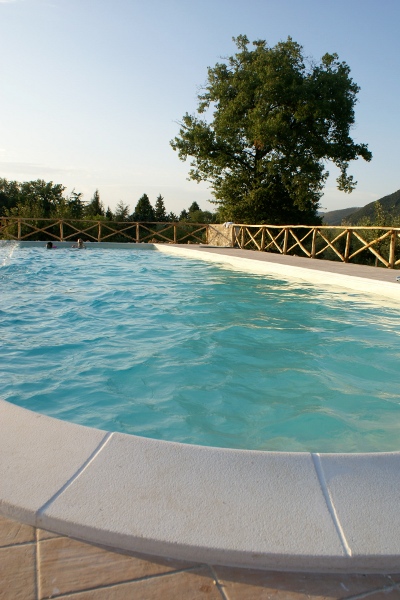 Description:
The agritourism La Perticara is located on a scenic spot along the old Flaminia route, in the land of Portaria, one of the hamlets of the municipality of Acquasparta. It is surrounded by the Umbria's peculiar hilly countryside and by a region of noticeable value as for environment and landscape.

Nearby, the old Roman town of Carsulę and the ways towards the archaeological site of Torre Maggiore, the Franciscan monastery of La Romita, and the stunning rocks of Macerino e Lo Scoppio. Even closer, the above mentioned path of the ancient via Flaminia, from Carsulę to the Fonnaia bridge and the Grotta Traiana's catacombs.

La Perticara comes from the careful restoration of an ancient farmhouse and its annexes, and offers three bedrooms, two little suites, and three independent apartments with kitchen. Each unit has its own bathroom. La Perticara can accomodate twentytwo guests.

Its wooden or wrought iron pieces of furniture are antique, and belong to our family's tradition. Natural fibre curtains are used, as well as design fittings and contemporary lights. Daylight filters through many windows and large glass doors. The ceilings show wooden beams and handmade terra cotta bricks, according to the genuine Umbria's tradition. Old terra cotta bricks have been used even for the inside and outside floor and lining, where they meet different kind of stone.

Great attention is paid to the environment. We collect and reuse rain-water, as well as the water produced by our phyto-purifier system. The heating is solar-powered. It also benefits from laggings and energy-saving high-thermal-efficiency equipment.



Services:
Our guests can enjoy the swimming pool, besides a large lobby, and a smaller drawing-room, both with fireplace and free wi-fi Internet spot. They can also walk through the estate, the small vineyard, and the hundreds of olive-trees that surround the premises. Our restaurant offers various Umbria's traditional courses, as well as different local products as olive oil, wines, jams, and marmelades.

La Perticara is peaceful and charming. It is open all the year for those who wish to spend their holiday deep in a stunning landscape. A corner where to read one of the many books available, or where to taste a good glass of wine by the fireplace in a nearly hidden place.
Send an e-mail to Farmhouse La Perticara


Didn't find what you are looking for? Try with other accomodations in Acquasparta: